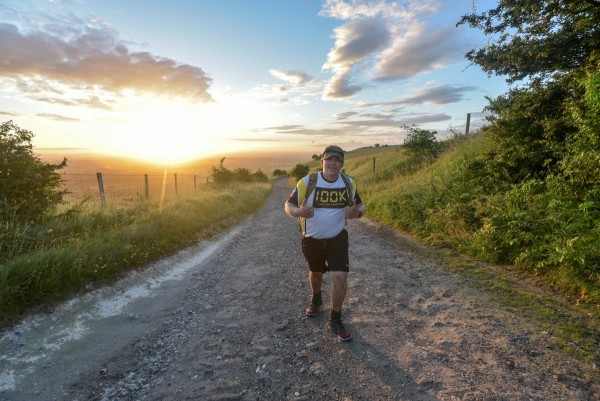 An Army Reservist from Hampshire is training to compete in a 100km walk for Blind Veterans UK, the national charity for blind and vision-impaired ex-Service men and women.
Luke Barker, 30 and from Gosport, will be competing in the event for the second time, having previously finished in 2016. Luke says: "For me it was a fantastic opportunity to give something back to the veterans of this country who are living with sight loss. As a serving Army Reservist, it's a cause that's a close to my heart.
"The whole event itself is just an awesome experience. I was lucky enough to do it with my brother and I'll be doing it with a few other close friends this year. It's a fantastic bonding experience."
Incredibly, despite not training for the challenge, Luke and his brother, Daniel, were able to place 16th and 17th respectively, coming in at 22 and a half hours. Luke recalls: "Don't get me wrong, I was in a lot of pain! But to put things into perspective, at the beginning of the race we were fortunate enough to listen to a briefing from a blind veteran called Shaun. As well as having no sight, Shaun is a double-amputee, having been hit by an Improvised Explosive Device while on tour in Afghanistan at the age of just 19. Yet despite everything he's been through, when you listen to the positivity with which he speaks, and the sporting achievements he's been able to accomplish on his prosthetics, you find yourself in awe and incredibly motivated. If Shaun can go through so much, having given so much, then you can be sure I'm going to endure a 22-hour walk!"
Luke joined the Army Reserve in 2011. He serves in the Royal Artillery in an Air Defence capacity and remains an active member of the force. He explains: "I'm a recruitment training instructor as well as a qualified armoured vehicle driver. I also represent the regiment in international shooting competitions. It's safe to say I like to keep busy!"
Outside of his role as a Reservist, Luke works for Safran Helicopter Engines UK, a company that supplies and maintains Apache and Merlin aircraft engines for the Ministry of Defence.
Ahead of this year's 100k London to Brighton, Luke says he can't wait to experience it all over again. Luke says: "I can't wait. I absolutely cannot wait. After the last one, I couldn't walk properly for two weeks. I'd sprained my big toe and suffered a hairline fracture on my shin. But make no mistake, had I been injury free, I'd have done it all over again the very next morning. It's just an incredible experience. The sense of achievement is like nothing else, and the opportunity to meet the very veterans you're raising money for is incredibly moving."
Indeed such is Luke's enthusiasm for the event that he's encouraging others to sign themselves up for what he insists will be a truly unforgettable 24 hours. He says: "What can I say, all you have to do is look at the people you'll be doing it for and use that as your energy, your drive, your fire! These people have been through so much and sacrificed so much. Use that as the fire in your belly and know that you'll experience the challenge of a lifetime!"
The 100k London to Brighton will take place from 7 – 8 July 2018. It will see participants start off at the Hammersmith and Fulham Rugby Club, before crossing the North Downs, walking via woodland and small villages to Sussex and through the South Downs.
Registration is currently open with a fee of £50 for individual and team entrants, and £100 for relay teams. There is a minimum sponsorship pledge of £300 for individuals, £1,250 for teams and £500 for relay teams. The all-inclusive entrance fee includes lunch, dinner and breakfast at numerous rest stops, snacks and refreshments along the route and a free event t-shirt.
To support Luke as he takes on the 100k for Blind Veterans UK, please visit: justgiving.com/lukebarker-gosport.
To sign up for the Blind Veterans UK 100k, please visit blindveterans.org.uk/100k.
For all media enquiries please contact: Felix Arbenz-Caines, PR Assistant, Blind Veterans UK, 12 – 14 Harcourt Street, London W1H 4HD E: Felix.Arbenz-Caines@blindveterans.org.uk, T: 020 7616 7941
Notes to Editor
Blind Veterans UK
Blind Veterans UK is a national charity that believes that no-one who has served our country should have to battle blindness alone. Founded in 1915, the charity provides blind and vision impaired ex-Service men and women with lifelong support including welfare support, rehabilitation, training, residential and respite care.
Find out more at: blindveterans.org.uk, follow us on Facebook at: facebook.com/blindveteransuk and on Twitter at: twitter.com/blindveterans.