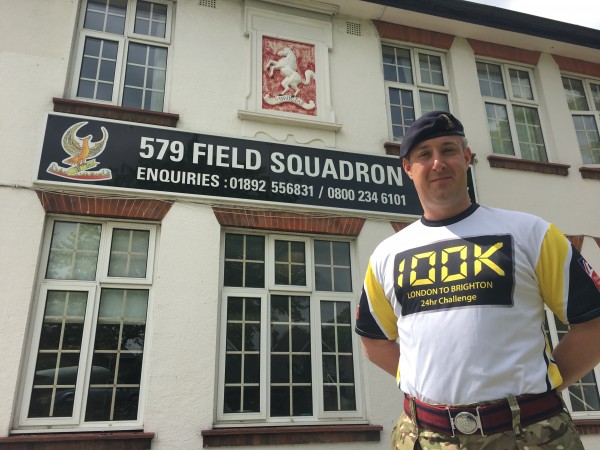 An Army Reservist from Wandsworth is training to compete in a 100km walk from London to Brighton for Blind Veterans UK, the national charity for vision-impaired ex-Service men and women.
Major Drew Craig, Officer Commanding 579 Field Squadron Royal Engineers – part of 101 (City of London) Regiment, Royal Engineers – will be tackling the epic challenge with members of his squadron.
He explains: "Blind Veterans UK is one of many charities that supports the British Armed Forces. It's important for those of us who are Serving to do our bit in support of those veterans who have gone before us, but also to support those ex-Service men and women who've also lost their sight.
"We actively encourage members of the Squadron to seek out new and innovative opportunities for training and this event allows us to work on our fitness and navigational skills."
Drew has served in the Army Reserve for over 24 years and has spent the majority of his career as a Royal Engineer. He has specialist training in geospatial intelligence, infrastructure assessment and civil-military cooperation. He continues: "I've served in Iraq on operations and helped deliver humanitarian assistance training in Uganda and Ghana. I've also been lucky enough to have participated in a number of adventure training expeditions in Africa and South America."
He says: "I assumed post as the senior officer at 579 Squadron in April 2016 and have another year to serve before I move onto another job. The Army Reserve offers a career pathway in much the same way as the Regular Army and in fact our regiment comprises both Regular and Reserve soldiers with specialisations in Explosive Ordnance Disposal (EOD i.e. bomb disposal) and Search. Our Regiment has an intimate relationship with the City of London stretching back over 75 years, back to the bomb disposal squads from WWII, so it's fitting that we're starting in London."
Outside of his service in the Army Reserve, Drew, 42, works as an Exploration Geologist. He explains: "I work in the natural resources sector; exploring for and developing mineral deposits. My work has taken me to over 30 countries and I'm soon back off to Pakistan and then Canada not long after! The role is varied but that's part of the appeal; one day I'm meeting government officials and the next I'm half-way up a mountain or deep in a jungle."
Drew, who'll be competing the challenge alongside four members of his Squadron, has long been a fitness enthusiast and recently completed the London Marathon. He has also completed a number of ultra-marathons, including the renowned Marathon des Sables.
Despite his achievements and training, Drew maintains that come the event, he and his squadron team will be looking to engage with the charity, and those it supports, as well as enjoying the physical and mental challenge. He says: "I think we'll be taking things steady; we're not participating to race. It's a great course so there'll be plenty to see, plus we're all keen to speak with both participants and spectators as we go. We're well placed to talk about the benefits the charity has for veterans, so hopefully we'll be able to perform as ambassadors on the charity's behalf!"
To support Drew Craig and 579 Field Squadron Royal Engineers, please visit: https://www.justgiving.com/fundraising/Mark-Botley1.
Registration for the 100k, which will kick off in Fulham on Saturday 1 July, is currently open with a fee of £75 for the 100k. For those not wanting to walk the full distance there is also a relay option available for teams of four walking 25km each. Teams taking part in the relay have a registration fee of £120. The all-inclusive entrance fee for participants includes lunch, dinner and breakfast at three rest stops, snacks and refreshments along the route and a free event t-shirt.
The London to Brighton 100k challenge is Blind Veterans UK's biggest annual fundraiser and takes participants from a starting point in south west London, along the banks of the Thames, through countryside paths in Surrey, Sussex and the North and South Downs to the charity's centre in Ovingdean, Brighton.
To sign up, please visit www.blindveterans.org.uk/100k.
For all media enquiries please contact: Felix Arbenz-Caines, PR Assistant, Blind Veterans UK, 12 – 14 Harcourt Street, London W1H 4HD. E: Felix.Arbenz-Caines@blindveterans.org.uk, T: 020 7616 7941
Notes to Editor
Blind Veterans UK
Blind Veterans UK is a national charity that believes that no-one who has served our country should have to battle blindness alone. Founded in 1915, the charity provides blind and vision impaired ex-Service men and women with lifelong support including welfare support, rehabilitation, training, residential and respite care.
Find out more at: blindveterans.org.uk, follow us on Facebook at: facebook.com/blindveteransuk and on Twitter at: twitter.com/blindveterans.