AstraZeneca in Liverpool are working with staff and residents from Launchpad's Speke House, as part of Armed Forces Week.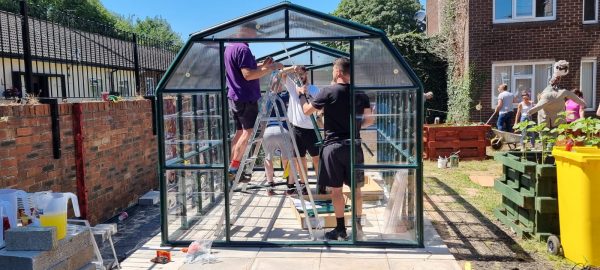 Staff from the company visited the house this week to help residents construct a new greenhouse and to teach them about gardening and growing their own produce to promote healthy living. One member of staff even brought in plants to give the garden a boost and has offered advice on what to grow so residents can enjoy their surroundings over the summer.
Staff and residents living at Speke House have also been invited into AstraZeneca's offices on Renaissance Way, Boulevard Industry Park in Speke to join in with some of their celebration events to raise awareness of the charity and Armed Forces Day, which will be held this Saturday, 25 June.
In addition, AstraZeneca has also kindly gifted Launchpad staff five iPads to improve communication with residents and they are going to promote the charity and all the great work they do to support veterans not just here in the UK but to other teams globally.
The activities build on an already successful partnership the charity has with AstraZeneca who will continue to support Launchpad as one of their site adopted charities. In November last year, staff from the company visited the house and volunteered to build four raised flowerbeds so residents could tend and maintain the area throughout the year. In addition to giving up their time, materials such as pallets, screws and compost were also donated by AstraZeneca.
Sam Jackson, Manager of Speke House, said:
"Once again, we are extremely grateful to all the staff at AstraZeneca for their continued support of Launchpad and working with our residents in the garden.

"Activities like this give them a real confidence boost and it also helps with their mental health and wellbeing by being outdoors, socialising and working and communicating with different people.

"The garden is really taking shape – just in time for summer and we hope this nice weather we have continues, so they can sit out and enjoy it. We've set up a gardening club and some of the residents have expressed interest in maintaining and improving the garden area all year round which is fantastic to see they are taking ownership and pride in their area."
Mark Proctor, Senior Director of the Liverpool AstraZeneca site, said:
"We are extremely proud to be supporting Armed Forces Day and Launchpad. Historically our site has supported many local causes in the community, and I know our employees find it immensely rewarding to see the difference our backing can make to individuals and organisations like Launchpad. We have ex-service people and current reservists working on the site who know only too well how important Launchpad is and how impactful our support can be. We look forward to further nurturing this partnership and helping more local veterans in the future."
Launchpad provides accommodation and support, with the help of partner organisations, to veterans to help then transition to civilian life. Speke House comprises 50 self-contained flats and communal facilities including a communal lounge, kitchen, IT suite, consultation room and garden.
Armed Forces Day is a chance for the nation to celebrate and show our support to the men and women of the Armed Forces who have served for their country, past and present.