Meet Tony Shaw former SAS Trooper and author of SAS: South Georgia Boating Club on Thursday 21 July at 1900 to 2000.
About this event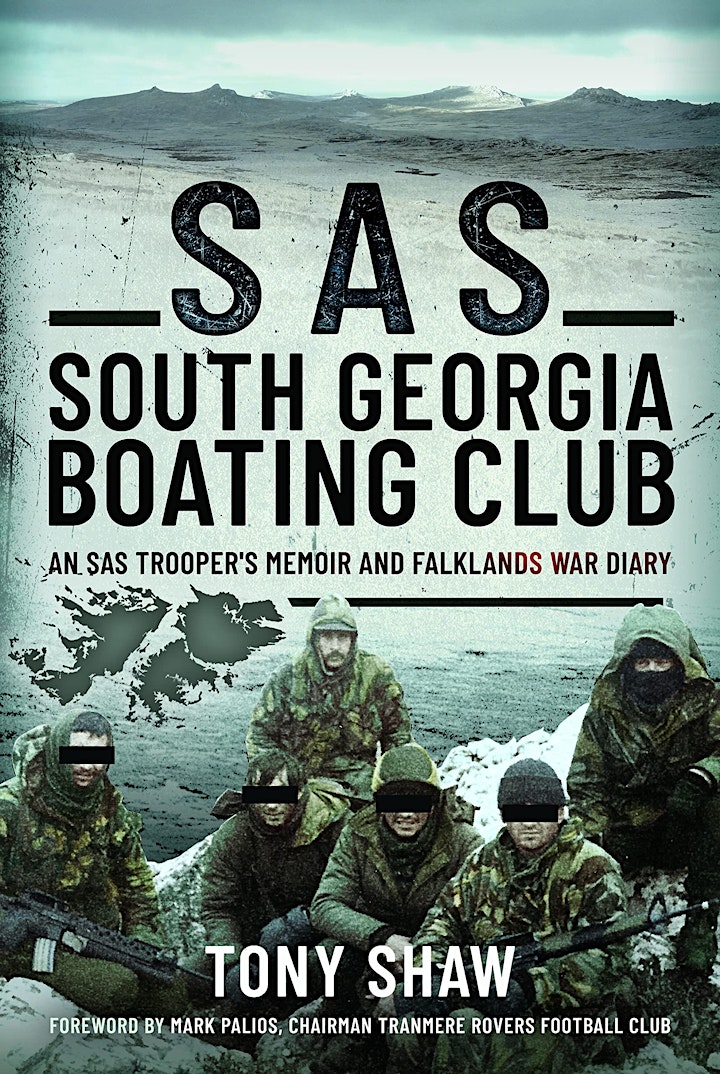 Many aspire to serve with the Special Air Service, arguably the world's most prestigious regiment, but few achieve their aim. In this inspiring memoir the author describes how he left school without any qualifications and embarked on a 30 year career much of it spent in Hereford, including four years in 'The Regiment'.
Against the odds he rose through the ranks before being commissioned and eventually retiring as a Major. Initially attached to 22 SAS as a signaller, he volunteered for and passed 'Selection', the most gruelling and demanding of tests. He was posted to D Squadron Boat Troop with whom he saw active service in the Falklands War, Northern Ireland and the UK counter-terrorist team. Thanks to the diary he kept during the Falklands War, the reader is treated to a gripping first-hand account of the intense action that he and his colleagues experienced, including recces, diversionary attacks, raids and ambushes both on South Georgia and the Falklands Islands.
Later he commanded the Royal Signals troop supporting D Squadron, 22 SAS before commissioning and later on pursuing a second career as a security consultant in various Middle Eastern hotspots.
About Tony
Tony Shaw joined the Royal Signals aged 15 as a junior entrant at the Army Apprentice College, Harrogate. He volunteered for 264 (SAS) Signal Squadron and after four years attached to D Squadron 22 SAS and qualifying as a parachutist, passed Selection in 1980. He returned to D Squadron spending four years with 17 (Boat) Troop, serving in Northern Ireland and the Falklands. In due course he went on to spend three years commanding D Squadron's Signals Troop.
During his military career he learnt five languages and was promoted through the ranks to WO1 and was commissioned in 1991. After retiring as a Major in 1999 he pursued a second career as technical and security specialist in the Middle East. A lifelong Tranmere Rover supporter, he enjoys mountain walking and running.
Live Talk
Tony will talk about the South Georgia Boating Club for 30/40 minutes.
Hosted by Company of Makers' co-founder Steve Bomford.
Interactive Q&A
Tony's talk will be followed by a Q&A session, so you'll have the opportunity to get involved and he'll answer as many of your questions as we can squeeze in.
Company of Makers Newsletter
Don't forget to sign-up to our newsletter and we'll send you all the latest updates about our podcasts, talks & workshops, direct to your inbox.