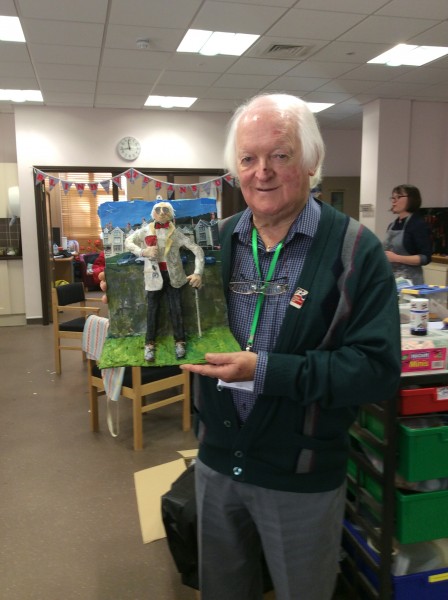 Award-winning Welsh artist, Luned Rhys Parri, has spent a week with Blind Veterans UK, a local charity for blind and vision-impaired ex-Service men and women.
As Artist-in-residence, Luned shared her knowledge and skills with the charity's beneficiaries at its training and rehabilitation centre in Llandudno. The artwork created explored some of the veterans' favourite pastimes, such as music and sport.
Nadia Wazera, Art & Craft Instructor at Blind Veterans UK, says: "The week captured the imagination of staff and veterans alike. The atmosphere was energetic and full of laughter.
"It ended on a high note and we're especially excited that the work created will be exhibited at Venue Cymru this week."
Luned says: "I thoroughly enjoyed my week with Blind Veterans UK. Through the process of making mixed media 3D work I was able to meet the charity's beneficiaries and learn a little more about their lives. It was a pleasure to work with them all, including the staff."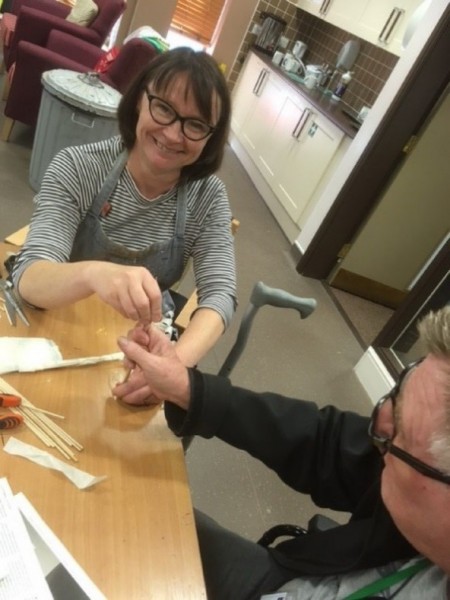 Blind veteran Marion Burrows adds: "I felt like a little girl again, I just had so much fun! The week has given me the confidence to try things I normally wouldn't. It was a fantastic learning opportunity."
Luned regularly exhibits across the country and abroad. She has been invited to participate in projects exploring the unique relationship Wales has with both Patogina and the Basque Country. She was also named Student of the Year at the 1989 National Eisteddfod, later winning the People's Choice Award in 2001.
The project has been generously funded by Helfa Gelf, and is supported by the Arts Council of Wales and Conwy County Council.
Visit blindveterans.org.uk/support to learn more about the charity and how you can support its vital work today.
ENDS
For all media enquiries please contact: Felix Arbenz-Caines, PR Assistant, Blind Veterans UK, 12 – 14 Harcourt Street, London W1H 4HD, E: felix.arbenz-caines@blindveterans.org.uk, T: 020 7616 7941
Notes to Editors
Blind Veterans UK
Blind Veterans UK is a national charity that believes that no-one who has served our country should have to battle blindness alone. Founded in 1915, the charity provides blind and vision impaired ex-Service men and women with lifelong support including welfare support, rehabilitation, training, residential and respite care.
Find out more at: blindveterans.org.uk, follow us on Facebook at: facebook.com/blindveteransuk and on Twitter at: twitter.com/blindveterans.