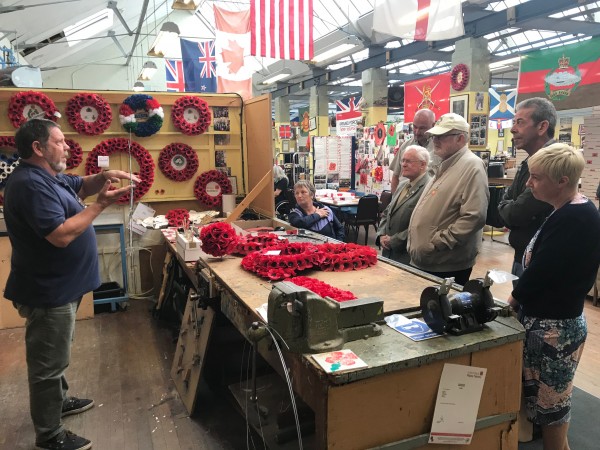 Eight Ayrshire veterans made the pilgrimage across the country recently for a special visit and tour of Lady Haig's Poppy Factory, in Edinburgh, where a team of injured ex-Servicemen and Servicewomen hand-produce more than five million poppies every year for the charity's annual Poppy Appeal.
The trip was arranged by staff at Poppyscotland's new Ayrshire Welfare Centre, based in Kilmarnock. At a weekly drop-in session at the centre, veterans found out that the iconic Poppy Factory is going to be refurbished after this year's Poppy Appeal, and they expressed a desire to visit before the work began. The veterans that attended were Sandy Kirkpatrick, Donald Scott, Alex Lambert, Tony Byrne, Paul Jarrett, John Thomson, Alison Armour, Alex Harvey and Steven Gibb.
Sandy served with the Scots Guards from 1969 to 1975 in various countries around the world. He was introduced to Poppyscotland through his wife, and he is a regular attendee of the veterans' drop-in group which is held every Friday. Sandy, who described his trip to the Factory as "a great day out", is retired and lives with his wife in Kilmarnock. He said: "I love attending the group. I was welcomed into a happy group of people and I enjoy their company. I look forward to the drop-in group every week."
Alex Lambert served with the 4th Royal Tank Regiment and travelled extensively, visiting the likes of Aden, Borneo, Malaysia and Hong Kong, among others. On leaving the Service, Alex, who lives in Kilmarnock, joined the Fire Service where he served 22 years before retiring. He said: "I am so glad that I came to the factory for a visit… what a place."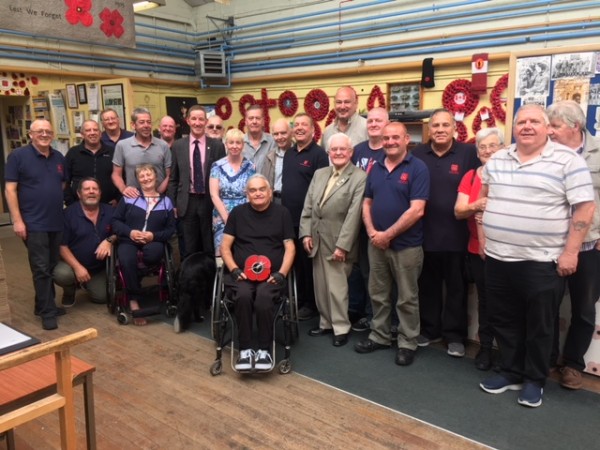 Donald served with the Royal Scots from 1952 to 1954 during National Service and was based at  Dreghorn Barracks in Edinburgh. Donald, who served in Korea, Berlin and Egypt, lives in Kilmarnock and regularly attends the drop-in session on a Friday afternoon.
Tony served with the Scots Guards from 1974 to 1980. He attends Scottish War Blinded on a weekly basis as a result of failing eyesight which is due to a condition called Graves' Disease. Tony has received support from Poppyscotland via other charities. He said: "The staff at Poppyscotland couldn't be more helpful. I am so glad that I walked through the door". Tony, who lives in Dundonald, in South Ayrshire, added: "I have always wanted to come to Lady Haig's Poppy Factory. We were made so welcome."
Paul served with the Royal Engineers from 1971 to 1978 and was persuaded to approach Poppyscotland for support by his wife Sally. Both Paul and Sally attend the veterans' drop-in group every Friday. Meanwhile, John served with the RAF from 1946 to 1948 and is one of the oldest veterans who attend the drop-in group at 90 years of age. He has received support from Poppyscotland via SSAFA and Action for Hearing Loss, and remains very active within his local community in Kilmarnock attending various organisations.
Alison is confined to a wheelchair, but it has not stopped her working as a Poppyscotland volunteer and fundraiser for a number of years. She is a close friend of Tony's and it was he who told her about the drop-in group. Describing her visit to the Factory, Alison said: "I have had a fabulous day and will now be able to explain exactly how the poppies and wreathes are made by the veterans in Edinburgh."
Alex Harvey, who is confined to a wheelchair, served with the Pioneer Corps from 1974 to 1977, in Battersea, London. He has been supported in the past via SSAFA and is an active volunteer in the Ayrshire Welfare Centre. Alex's hobby is making decorative objects out of stained glass, and he recently presented a stained glass clock in the shape of a poppy to the Poppy Factory.
Finally, Steven, who lives in Kilmarnock, served with the Royal Highland Fusiliers from 1990 to 1994, seeing time in Iraq, Northern Ireland and Belize. He has been supported by Poppyscotland via Housing Options Scotland and attends the veterans' drop-in group every Friday.
Graham Fulton, a Welfare Services Coordinator at the Centre in Ayrshire, said: "The Poppyscotland Welfare Centre is a welcoming place where veterans and members of the Armed Forces community can come for advice and support, or simply drop in for a brew and a chat.
"We are quickly establishing a reputation in Kilmarnock and the surrounding area as the place to go for help and support for veterans and members of the Armed Forces community. We now have between ten to 12 veterans who regularly attend the weekly drop-in sessions, and, as a result, we are now looking at extending this to two sessions a week. The general consensus is that the Centre is a fantastic facility, and everyone who walks through the door is made welcome, and made to feel valued."
The MacRobert Centre, as it is known, serves the estimated 37,000-strong Armed Forces community living in and around Ayrshire, and it was officially opened by Air Marshal Stuart Atha in March of this year having already opened to the public in October 2017. Poppyscotland Chief Executive Mark Bibbey added: "Ayrshire is home to many members of Scotland's Armed Forces community and we are delighted to be delivering a holistic service to help those who are in need of not only our support, but also that of our sister charities and statutory organisations."
ENDS…
Notes to editors
For further information please contact David A. Findlay, PR Manager at Poppyscotland, on 0131 550 1580 or 079797 35611, or email at findlay@poppyscotland.org.uk.
Poppyscotland provides life-changing support to the Armed Forces community. Money raised from the Scottish Poppy Appeal and Poppyscotland's year-round fundraising enables them to deliver support to members of the Armed Forces community in Scotland by providing tailored funding and assistance. The charity also funds services in advice, employment, housing, mental health, mobility and respite. Please note that we are known as "Poppyscotland", and not "PoppyScotland" or "Poppy Scotland". For more information, please visit us at: poppyscotland.org.uk.