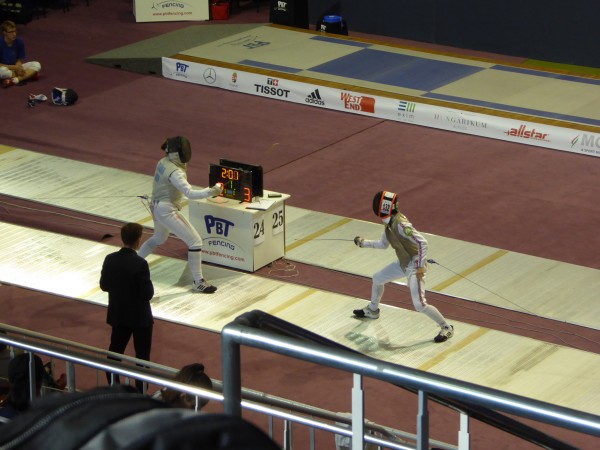 The RAF Association helps many people to achieve their dreams. People like student, Becci Curwen, who finds time in between schoolwork and air cadet meetings, to be a top Great British fencer!
At just 15 years of age, Becci is part of the GB under 17 Fencing Foil team, and at the end of last season ranked sixth in England and 24th in Great Britain. She has now jumped to 13th place in the GB rankings, after some fantastic results.
Becci took up fencing almost by accident, when she started at Millfield School in Somerset as a county swimmer. She was encouraged by staff and her parents to try out different activities including climbing and fencing.
Becci's achievements are more remarkable because of the learning difficulties she tackles every day: Asperger's Syndrome, dyslexia, Attention Deficit Disorder and Irlen's Syndrome (a visual processing disorder). Becci's parents acknowledged that reaching out to the Association for support was a huge step for Becci, and one that they are very proud of her for taking.  Becci's parents are no stranger to the Association's work, with dad being part of the RAF Apprenticeship Management Team and her mum working for the MOD, as well as helping to organise Becci's cadet squadron.
Rory O'Connor, Director of Welfare and Policy said: "We are thrilled to be supporting Becci and know that her drive and determination will help her to achieve her goals! We look forward to sharing her progress as she works her way up the rankings."
Fencing provides Becci with a focus, not just in the sporting arena, (her goal is to be picked for the 2024 Olympics) but it has given her more co-ordination, developed her memory and communication skills, and given her a sense of self-worth. It has also focused her mind on schoolwork. A few years ago, Becci's parents weren't sure their daughter would be able to take her GCSEs, now Becci is hoping to take A-levels and attend university.
The Association looks forward to sharing how Becci gets on throughout 2017.