On Remembrance Sunday last year, the nation watched as thousands of people took part in the Cenotaph March Past in London to remember our fallen heroes. Among them were a large group of children, recognisable in yellow and black scarves, all who have lost a parent who served the country. They are all members of Scotty's Little Soldiers – a charity that supports bereaved British Forces children.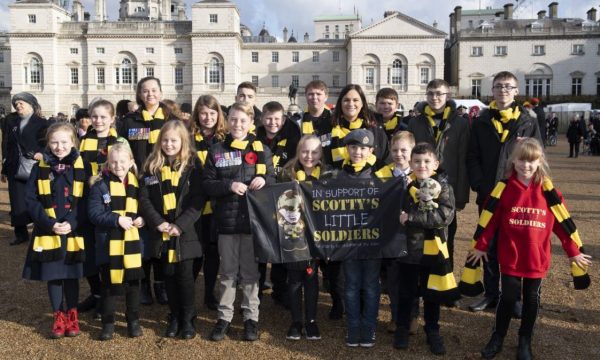 With income currently low for all charities due to fundraising events being cancelled and uncertain times for all, many of the children that benefit from Scotty's Little Soldiers are fundraising to ensure the support from the charity that means so much to them can continue.
Twelve families have signed up for May Marathon, meaning they can complete 26.2 miles any way they wish throughout the month of May. So far, the families' combined efforts have raised almost £7000.
Another member, 11-year-old Zoe Templer, has taken part in a sponsored silence in honour of her father, Sargent Adrian Templer, who was killed in June 2010 and has raised over £750. 
Eight-year-old Ava Winter has made a card for Captain Tom and is being sponsored to take the card on a virtual tour from her home in Taunton to Captain Tom's house in Bedfordshire. Ava lost her dad, CSGT Aaron Winter, in December 2013, after he died while training at Norton Manor Camp in Taunton.  
Ava was almost two-years-old at the time and since his death she has been supported by Scotty's Little Soldiers and found solace in the support network created by the charity, so she wanted to combine her admiration for Captain Tom with her appreciation for Scotty's.
One mum, Caroline Williamson, whose children have been supported by Scotty's since her husband, Sergeant Robert Williamson, died in 2014, climbed 7120 steps in her own home by walking up and down the stairs, making it the equivalent of climbing Mount Snowdon. She did it on May the 4th dressed as R2-D2 because Rob was a huge fan of Star Wars. Caroline raised £650.
These are just a few examples of ways Scotty's Little Soldiers' own beneficiaries have used their time during lockdown to support a charity close to their hearts. 
Scotty's was founded by war widow Nikki Scott in 2010, a year after her husband, Corporal Lee Scott was killed in Afghanistan, leaving behind two young children.
The charity currently supports almost 400 children and does lots of things to support its members, including providing access to the very best health and wellbeing care, offering outstanding development opportunities through a range of activity and educational grants, and Scotty's helps put smiles back on those brave faces by organising events, providing respite breaks, posting them birthday and Christmas presents and remembering the anniversary of their parent's death.
Usually, at this time of year, Scotty's would be arranging respite breaks for the families, but sadly this isn't possible at present. In recent weeks, the charity has had to adapt to the current climate and has been using modern technology and arranging exciting virtual events and activities to engage with its members as well as offering an increased level of emotional support to a great number of families who are struggling to cope with added pressures.
Eleven-year-old Ben O'Donnell, who is doing the May Marathon and has already raised over £1,400 for Scotty's, said:
"I was 9 weeks old when my dad, WO2 Gary O'Donnell GM and BAR, was killed in Afghanistan in 2008. Scotty's Little Soldiers has been there for me and my big brother Aidan who is now 19 and at university. They have helped us in so many different ways and we are so grateful to them, so I want to give something back. I'm going to cycle 26.2 miles during the month of May and I'm making my mum do it too!" 
Caroline Williamson, mum to two of Scotty's members who virtually climbed Mount Snowdon, said:
"Nikki is amazing and all the team at Scotty's Little Soldiers have been there for my family and supported us 24-7 for almost 6 years since we tragically lost Rob. Scotty's has been there every step of the way. The kids and I have been struggling recently, with a lot of time on our hands we are thinking about Rob a lot and we really miss him. It's a worrying time for everyone, but Scotty's are still checking in on us every week with the support team calling us – they are working flat out." 
Scotty's Little Solider founder, Nikki Scott, said:
"It's a really tough time for everyone but these kids already face a numbers of challenges as a result of losing a parent and knowing there's support for them from people that understand means so much to them. We've found that now, more than ever, these families need us. We're been overwhelmed by the amount of families we support working hard to raise funds for us during this difficult time, it is testament to how much Scotty's means to them."

"As with all charities we are feeling the strain of many of our usual fundraising streams being cut off, so any help in raising funds is so appreciated. We've made a promise to these children and we will make sure we keep that. We are supporting them in honour of their fallen heroes. We owe it to servicemen and women to look after their children if the worst happens." 
To make a donation, go to: www.scottyslittlesoldiers.co.uk/donate