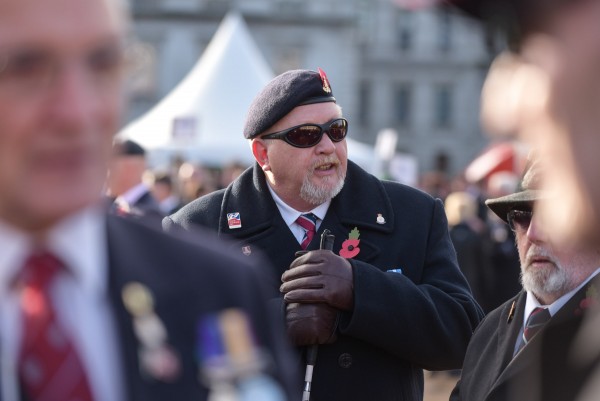 "I felt proud to be there alongside blind veterans who had lost their sight but were still so positive and cheerful."
Ron was in the Army from September 1969 to March 1979, serving in the Royal Artillery as a gun commander. He says: "I served in Lippstadt, Germany, which was awesome as I'd actually more or less grown up in Germany due to the fact that my father was based there. It was like a home away from home."
Ron also completed a number of tours of Northern Ireland and did a short tour of Cyprus with the UN. As a gun commander, Ron had a crew of six and worked in equipment maintenance and servicing.
Of his Service, Ron says: "You tend to forget the bad times and focus on the good times, but even then I'd do it all again in a heartbeat. If I could do it over again, I'd do it exactly the same, just for a little bit longer!"
Ron was in the Army Reserve from March 1979 to February 1991.
It was not until August 2009 that Ron lost his sight as a result of a stroke, which in turn led to hemianopia. Ron was left with no vision in his right eye and what he describes as 'blotches' in his left. He explains: "It was tough, I won't lie. I felt like that was it for me, that I'd be confined to an armchair for the rest of my life. I became depressed as a result."
Ron first came across Blind Veterans UK when his eye clinic liaison officer recommended he get in touch. Ron recalls: "Initially I was dubious because I thought that the charity was just for younger veterans who'd been blinded while serving, but as soon as I got down to the charity's Brighton centre for my induction week, I was put at ease. There were lots of people milling around, anxiously, many of them looking just like me."
He continues: "Within ten minutes it was like we were back at home! The charity treated us with civility and dignity and by the time we'd reached the end of the induction course I was a different person. I felt 30 years younger. They'd given me my confidence and self-worth back."
Since joining the charity Ron has undertaken a number of new activities, including shooting, archery, guitar playing and dragon boating. He says: "Everything has been fantastic so far. I just go out and get on with it. The charity pulled me up by my bootstraps and for that, I can never thank them enough.
"It's one of the best things that's ever happened to me in my life. Now, every time I go somewhere with blind people, I always ask if there are any ex-Service men or women in the room so that I can promote the charity as much as possible."
Ron marched with other vision-impaired ex-Service men and women supported by Blind Veterans UK as part of the national Remembrance Sunday commemorations in London on Sunday 12 November 2017. Specsavers stores across the UK fundraised from 6 to 12 November on behalf of Blind Veterans UK to help Ron, and others like him, march at the Cenotaph.
Specsavers has supported Blind Veterans UK since 2012 and, as well as raising money for the charity, has referred a number of customers to them so they can access its support.
Chief Executive of Blind Veterans UK, Major General (Rtd) Nick Caplin CB says: "Remembrance Sunday is always a very poignant time for our blind veterans and it is fantastic that Specsavers were able to support them to get to march at the Cenotaph.
Blind Veterans UK is the national charity for blind and vision-impaired ex-Service men and women, providing vital practical and emotional support to help veterans discover life beyond sight loss.
If you, or someone you know, served in the Armed Forces or did National Service and are now battling severe sight loss, find out how Blind Veterans UK could help by calling 0800 389 7979 or visiting blindveterans.org.uk
For all media enquiries please contact: Felix Arbenz-Caines, PR Assistant, Blind Veterans UK, 12 – 14 Harcourt Street, London W1H 4HD, E: felix.arbenz-caines@blindveterans.org.uk, T: 020 7616 7941
Notes to Editor
Blind Veterans UK
Blind Veterans UK is a national charity that believes that no-one who has served our country should have to battle blindness alone. It provides blind and vision-impaired ex-Service men and women with lifelong support including welfare support, rehabilitation, training, residential and respite care.
Find out more at: www.blindveterans.org.uk and follow us on Facebook at: facebook.com/blindveteransuk and on Twitter at: twitter.com/blindveterans.