A Berkshire blind veteran is going have his artwork piece "Safe Area – Lighthouse Entrance" featured in Blind Veterans UK's annual exhibition fundraiser this month for the first time.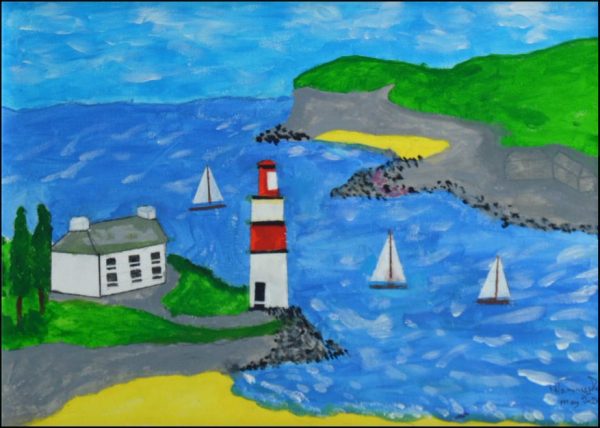 Michael Hammerton, 82 and from Reading, created the piece in two weeks during the lockdown period. He says:
"I was a Draftsman all my life so I've always been able to visualise things and put them on paper. I started to become interested in art when we had grandchildren because we would have drawing competitions with them. As they got older, I stopped doing it and it wasn't until I visited the charity's training and rehabilitation centre in Brighton for a painting week a couple of years ago that I started to get back into it again". 
The charity normally hosts an annual art exhibition at their training and rehabilitation centre in Brighton. However due to the COVID-19 pandemic, the decision was made to make it virtual with the auction being hosted on eBay.
Michael got inspiration for his painting from a birthday card he received. He says: "I heard about the exhibition through the charity and I hadn't done a lot over the last few months in lockdown. I now have an art studio at home and do paintings for around the house anyway so I thought I might as well give it a go! I received a card for my birthday with a lighthouse on it so I based my painting around that".
Michael served in the Royal Corps of Signals for two years. He started to gradually lose his sight and has since been diagnosed with macular degeneration and glaucoma. He says: "I heard about Blind Veterans UK when I visited the eye hospital in Reading about two years ago. I decided to look into it and they have been supporting me ever since. It's been great to rediscover my interest in art!"
As well as artwork created by other blind veterans, the exhibition also includes pieces by staff and volunteers associated with the charity.
Since the charity first started its work in 1915 with soldiers returning from World War One, the role of art and crafts has been integral to the rehabilitation of its veterans.
From craft skills such as basket-making, woodturning and frame-making in the charity's early days, to today's activities of painting, photography, sculpture and mosaic, blind veterans are able to build their sense of independence and develop their creativity.
While once the focus of such training was primarily on the vocational aspects of these skills, blind veterans are now supported in the Blind Veterans UK specialist Art & Craft Workshop to explore the recreational benefits of the arts.
Whether it's helping to rediscover a skill someone thinks that they may have lost, or encouraging our veterans to try something they've never tried before, confidence gained in the workshop often helps to overcome many of the barriers and challenges of sight loss.
Louise Kirk-Partridge, Rehab Lead in the Art & Craft Department at Blind Veterans UK says:
"Having the chance to pursue the creative arts is a fantastic way for our veterans to regain confidence after sight loss. This exhibition is a real opportunity to showcase that there really is no barrier for its enjoyment, while also raising much-needed funds for the charity."
The 24 unique pieces of artwork, especially created for the exhibition, are open for bidding on eBay between October 20 and 30, with all funds raised going to Blind Veterans UK. Visit blindveterans.org.uk/artexhibition for more information.