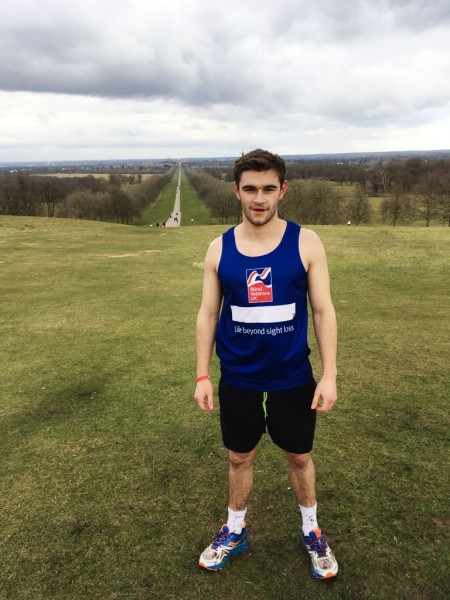 A man from Berkshire is currently training to compete in this year's London Marathon for the beneficiaries of Blind Veterans UK, the national charity for blind and vision-impaired ex-Service men and women.
Charlie McAllister, 22 and from Windsor, has long hoped to complete the world-famous course and decided that 2018 would be the year he finally committed. He explains: "It's always been on my bucket list. Everyone knows about the atmosphere, the significance and, of course, the immense challenge involved. I'm just excited to get out there and experience it firsthand"
Charlie began working for Blind Veterans UK, which provides free lifelong support to ex-Service personnel living with sight loss, in September, just months after graduating from the University of Manchester. He admits that his time working at the charity fueled his desire to run on behalf of a charitable cause, and that it didn't take him long to decide exactly which cause he'd be supporting.
He says: "I've just been blown away by the difference the charity is able make. Naively, I'd assumed that sight loss in the military community would be a marginal issue, but in reality there are tens of thousands of people living with a vision-impairment who are eligible for the charity's support. These are men and women who've displayed bravery of the kind few of us could ever imagine, and so to think that they're having to face such challenging circumstances alone is heartbreaking.
"Even though I've only been at the charity for a few months, I've had the good fortune of meeting quite a few of the charity's beneficiaries. It's always as inspiring as it is humbling to see the determination with which they face blindness. I'm looking forward to raising as much money as possible to support the cause."
Charlie works in the fundraising team, securing donations for the charity in the form of legacy donations. He explains: "60% of the charity's voluntary income is from legacies, so it's a vital part of the fundraising process. My job is to make as many people aware that they can leave a legacy to us in their will, how they can do it and, perhaps most importantly, what impact it can make."
With an undertaking as vast as the London Marathon, Charlie is well aware of the work that'll have to be put in in advance. He says: "The furthest I've ever run is 15 miles, and that was a good few years ago! I think as long I'm smart about it, stick to my training schedule and make sure I eat clean – most of the time – then I should be OK!"
Alongside the training, Charlie also has a minimum sponsorship pledge to achieve. Again, he is planning on leaving no stone unturned and has several fundraising plans already underway. He says: "I play for Windsor Rugby club so I'm going to be holding a virtual race night, complete with digital horses and camels! I'm hoping as many people as possible will come down to have a good time, ideally with their wallets full!"
For now, while Charlie concentrates on his training and fundraising, he's keen to encourage as many people as possible to sign up for what he's sure will be the challenge of a lifetime.  He says: "As far as I'm concerned, there are absolutely no negatives involved! You'll massively increase your level of fitness, support a great cause, support some incredible people and, most importantly, have an awful lot of fun."
To support Charlie as he prepares to take on the London Marathon for Blind Veterans UK, please visit: justgiving.com/charlie-mcallister1.
The Virgin London Marathon takes place on Sunday 22 April and is one of the most popular marathons in the world. During the race, starting in Greenwich Park and finishing on The Mall, participants will experience a beautiful 26.2 mile route past London's most magnificent landmarks.
Blind Veterans UK was founded in 1915 and the charity's initial purpose was to help and support soldiers blinded in WWI. But the organisation has gone on to support more than 35,000 blind veterans and their families, spanning WWII to recent conflicts including Iraq and Afghanistan.
For more than a century, the charity has been providing vital free training, rehabilitation, equipment and emotional support to blind and vision-impaired veterans no matter when they served or how they lost their sight. Visit blindveterans.org.uk/support to learn more about the charity and how you can support its vital work today.
For all media enquiries please contact: Felix Arbenz-Caines, PR Assistant, Blind Veterans UK, 12 – 14 Harcourt Street, London W1H 4HD, E: Felix.Arbenz-Caines@blindveterans.org.uk, T: 020 7616 7941
Notes to Editor
Blind Veterans UK
Blind Veterans UK is a national charity that believes that no-one who has served our country should have to battle blindness alone. Founded in 1915, the charity provides blind and vision impaired ex-Service men and women with lifelong support including welfare support, rehabilitation, training, residential and respite care.
Find out more at: blindveterans.org.uk, follow us on Facebook at: facebook.com/blindveteransuk and on Twitter at: twitter.com/blindveterans.