This Monday, legendary professional footballer, manager and pundit Chris Kamara will be hosting a free online Q&A session in an event presented by BFBS in partnership with the Tickets For Troops charity.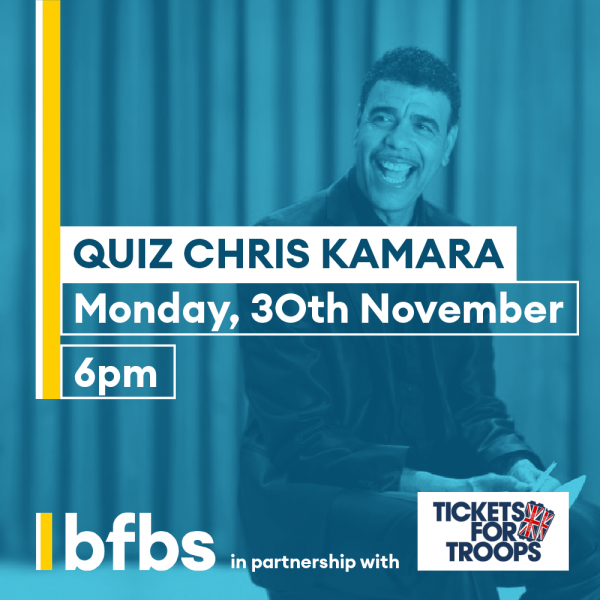 With live events cancelled due to the COVID-19 pandemic, Tickets For Troops and BFBS want to ensure that the UK military and their families continue to feel entertained and supported.
About the Zoom chat, Chris said:
"I'm really looking forward to catching up with the forces next Monday with BFBS and Tickets for Troops.   

"I hope they're going to be kind with the questions but I'm ready for anything. Bring it on."   
So, for one hour from 6pm UK time on Monday, November 30, former Royal Navy footballer Kammy, as he is affectionately known, will be answering questions live from the lucky participants who will join him at the Zoom event: 'Quiz Chris Kamara'.   
Tickets for the event can be secured for free via Tickets For Troops – the military charity which provides free tickets to members of the Armed Forces for a variety of sporting, musical and cultural events.
Sky Sports pundit Chris, who is on the latest episode of BFBS Radio podcast Team Talk talking about how he got through lockdown, will be joined by broadcaster Hal Stewart, who will host the event and take questions live from the online audience.
With Christmas just round the corner, Chris is releasing his second album '… And A Happy New Year', on November 27, 2020, following on from the unprecedented success of his debut 'Here's To Christmas' last year.
Evie Chandler, Operations Manager, Tickets For Troops said:
"With Chris Kamara being ex-Navy we were thrilled when he said yes to this event. We can't wait to see what gems Tickets 4 Troops members and BFBS Radio listeners come up with this time.   

"We hope you're ready, Chris." 
Tickets are available via the Tickets For Troops website and directly here bit.ly/QuizKammy