The charity Alabaré will be taking its flagship fundraising event, the BIG Sleep, to the historic Old Royal Naval College at Greenwich on Friday 6 October.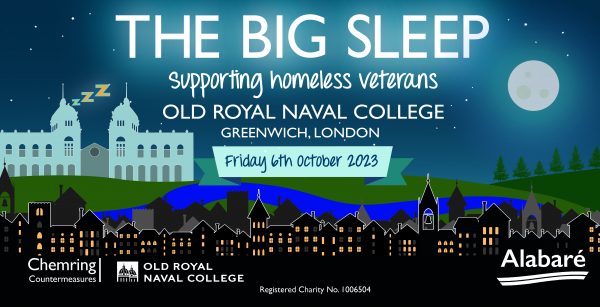 For the first time ever, participants will bed down for the night on the hard, cold flagstones beneath the colonnades at this iconic riverside UNESCO World Heritage Site, all whilst raising vital funds and awareness to support homeless and vulnerable ex-Military service personnel.  JOIN US and hear the echo of historic grateful voices!
At its peak, The Old Royal Naval College Greenwich housed over 2,700 invalided naval veterans. Sadly, time has NOT moved forward – 300 years later, Alabaré still supports homeless or vulnerable veterans offering homes and invaluable support as they recover from the impact of homelessness and begin to rebuild their lives once more.
With support and endorsement from Johnny Mercer MP, Minister for Veterans' Affairs, Alabaré is hoping to build on the success of their BIG Sleep at the Tower of London in 2021 when a whopping £150,000 was raised. These funds will specifically support street homeless veterans and provide supported accommodation and opportunities to develop skills and confidence to live fulfilling lives once more.
There will be plenty of activity and entertainment before bedding down for the night, including a talk from a guest speaker. An experienced team will look after you throughout the night, with access to warm drinks and a simple breakfast early the next morning. This event is suitable for anyone aged 14 plus and in good health.
In the lead-up to the event, Alabaré, in conjunction with Chemring Countermeasures, hosted a private event on Winston Churchill's boat Havengore with Lord Michael Dobbs, who shared insights on the life of Sir Winston Churchill. The team hope several city-based corporate teams will get involved together with those interested in naval history or those passionate about iconic buildings and architecture.
To learn more and sign-up for the event, please go to www.thebigsleep.org.uk