The family of Prestatyn's Sergeant Richard Williams, who died on 14 October 2018 following a road traffic incident, will celebrate his life this weekend (Saturday 26 October) whilst raising money for bereaved Armed Forces charity, Scotty's Little Soldiers. Saturday's Black-Tie Dinner at The Beaches Hotel, Prestatyn has been organised by widow Rhian Williams in order to bring together those who loved Richard, whilst raising money for a great cause.
Sgt Richard Williams who served in 1st Battalion, The Royal Welsh, was deployed in Iraq, Afghanistan and Estonia on operational tours. A well respected, popular member of the Forces, Richard left behind three young sons: Thomas, Dafydd and Osain who are now aged 10, 9 and 4 and are Scotty's Little Soldiers members.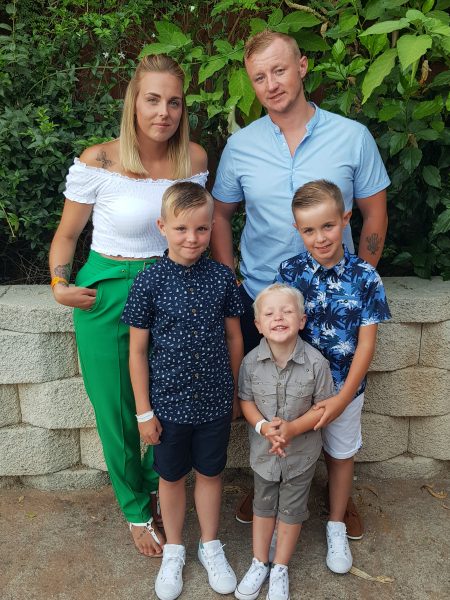 Founded by war widow Nikki Scott, Scotty's Little Soldiers is a national charity which provides support to hundreds of children across the UK who have lost a parent who served in the British Armed Forces. The charity was set up in memory of Nikki's husband and father to her two children, Corporal Lee Scott, after he was killed in Afghanistan in 2009.
Scotty's does lots of things to support the children of the fallen, including sending them on holidays, organising special experiences, posting them birthday and Christmas presents and remembering the anniversary of their parent's death.  The charity also provides personal development assistance for the children through educational grants and access to professional bereavement counselling, as well as arranging events where bereaved forces children from all over the country come together to have a great time and form friendships with kids in the same situation.
The children of Sgt Williams became members of Scotty's Little Soldiers after his death and the charity offers them continued support.
Mum of the three boys, Rhian Williams, explained what Scotty's has meant to the family since Richard's death:
"The boys absolutely love Scotty's Little Soldiers and it means so much to them. They get excited as soon as they see anything to do with Scotty's and the charity has been good to us. We enjoyed a fantastic day at Alton Towers thanks to Scotty's and we're very grateful for the Christmas presents the boys received."

"Raising money for the charity through the Black-Tie Dinner just made sense – we wanted to give back to the charity and we want the evening to be a celebration of Richard's life, where friends and family can share stories and remember him."
Scotty's Little Soldiers was founded in 2010 and currently supports 395 bereaved Forces children across the UK, offering integral support when they need it the most.
Nikki said:
"We're very thankful to Rhian and her boys for raising money for the charity through the Black-Tie Dinner. I'm sure the evening will be a poignant one and a time for those who loved Richard to come together and share memories of his life."

"Coping with the loss of a parent is challenging and grief can hit at different times. As the boys grow Scotty's will be right by their side, ready to offer the support needed."
There are still tickets left for the Black-Tie Dinner, if you'd like to purchase one please contact Rhianwilliams905@outlook.com                                                                                  To learn more about how you could help Scotty's Little Soldiers visit: http://scottyslittlesoldiers.co.uk/
To speak to a member of the Scotty's Little Soldiers team, please contact Scotty's national PR agency: Claire Lomax (claire@wolfstarconsultancy.com), Chris Grayson (chrisg@wolfstarconsultancy.com), Rochelle Tattersall (rochelle@wolfstarconsultancy.com) or 0113 273 7816.
Notes to editors:
Scotty's Little Soldiers, founded in 2010, honours Corporal Lee Scott's memory – both as a loyal soldier and a loving father – and provides a practical yet personal way for the public at large to show their appreciation for those brave individuals who make the ultimate sacrifice in the service of their country.
Scotty's Little Soldiers provides its members with support and guidance throughout their childhood and offers a respite, however brief, from the daily ups and downs of coping with the loss of a parent. It does this through three programmes. 'Smiles' offers children the opportunity to smile and laugh again through a wide range of activities and gifts.  The 'Support' programme aims to assist with the more emotional side of bereavement and includes access to professional counselling and a family support network.  The 'Strides' programme helps with the charity's members personal development and includes a range of activity and educational grants.
In 2018 Scotty's Little Soldiers was honoured to be one of seven charities chosen to benefit from donations marking the wedding of Prince Harry and Meghan Markle.