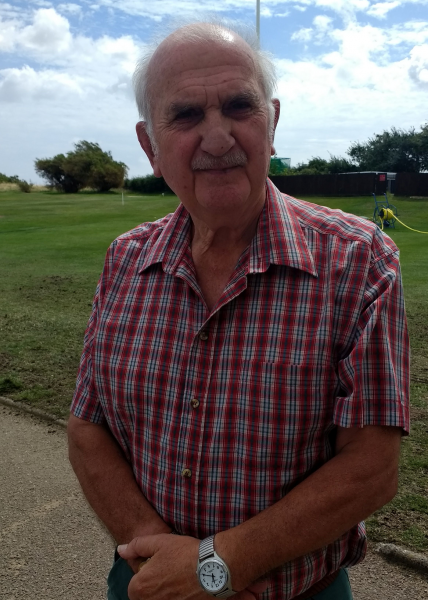 A blind former RAF police corporal and ex-police inspector from Woodbridge is urging fellow veterans to access the "tremendous support" of a national sight loss charity.
Having worked in the police force for more than 30 years and served in the RAF Police during his National Service, Geoffrey Moss, 79, feared losing his independence along with his sight when he was diagnosed with glaucoma. Fortunately, thanks to support from Blind Veterans UK, Geoffrey has received the training and equipment he needs to continue living life to the full.
Geoffrey was called up for National Service in 1959. After training at RAF Bridgnorth he served with the RAF Police at RAF Netheravon and RAF Bawdsey before his discharge as a corporal in 1961.
Geoffrey says "It was a great time in my life. I was stationed in Bawdsey, which is right next to the sea and it was absolutely beautiful. I enjoyed being out and about so sometimes the security work at police headquarters could be rather dull, but we all got along with one another very well which made all the difference."
Geoffrey knew from the age of 18 that he wanted to join the police force, which partly influenced his decision to join the RAF Police when he began his National Service. Upon discharge in 1961 he joined what is now the Suffolk Constabulary and immediately began his basic training in Felixstowe. During his 30-year career, Geoffrey spent time as a village policeman, worked with the CID drug squad and completed a secondment with Scotland Yard.
Geoffrey said: "What I enjoyed most about my work was meeting different people every day – the bad and the good. I was lucky to have a lot of freedom within the roles I worked and to challenge myself. It was a career that suited me down to the ground."
Geoffrey was diagnosed with glaucoma 23 years ago and lost his sight gradually. He began receiving support from Blind Veterans UK in 2015, when he was signposted to the charity by his local hospital.
Geoffrey said: "I initially found it very difficult to accept I was going blind. I had to rely on my wife to drive me around and I lost confidence in going out alone. But since joining Blind Veterans UK it's like I've been given a new lease of life."
Blind Veterans UK has provided Geoffrey with specialist equipment to help him around the home such as a magnifier, an LED lamp and a talking watch. Geoffrey also regularly attends Blind Veterans UK lunch clubs in his local community, and has visited the Blind Veterans UK centre in Brighton for IT training and an introduction week, where he learned to adapt to his sight loss.
"Blind Veterans UK has given me tremendous support. I've found the charity so willing to assist with the smallest things and the staff will go out of their way to help me out. I'd really recommend anyone who thinks they may be eligible for support to get in touch."
Blind Veterans UK is the national charity for blind and vision-impaired ex-Service men and women, providing vital practical and emotional support to help veterans discover life beyond sight loss. The Diana Gubbay Trust, administered by Blind Veterans UK, was set up in 1971 for the benefit of men and women in the Emergency Services (Police, Fire and Ambulance) who have suffered loss of vision whilst on duty.
We estimate that there are currently 59,000 ex-Service men and women battling severe sight loss who could be eligible for support but who do not realise it. It doesn't matter when or how a veteran lost their sight, or when they served, we can help.
If you, or someone you know, served in the Armed Forces or did National Service and is now battling severe sight loss, find out how Blind Veterans UK could help by calling 0800 389 7979 or visiting www.blindveterans.org.uk/noonealone
ENDS
For all media enquiries please contact: Ruth Moore, Communications and Marketing Assistant, Blind Veterans UK, 12 – 14 Harcourt Street, London, W1H 4HD, E: ruth.moore@blindveterans.org.uk, T: 020 7616 7955
Notes to Editor
Blind Veterans UK
Blind Veterans UK (formerly St Dunstan's) is a national charity that believes that no-one who has served our country should have to battle blindness alone. It provides blind and vision impaired ex-Service men and women with lifelong support including welfare support, rehabilitation, training, residential and respite care.
The charity needs £100 million over 5 years to provide lifelong support to blind ex-Service men and women. Find out more at: www.blindveterans.org.uk, and follow us on Facebook at: facebook.com/blindveteransuk and on Twitter at: twitter.com/blindveterans.