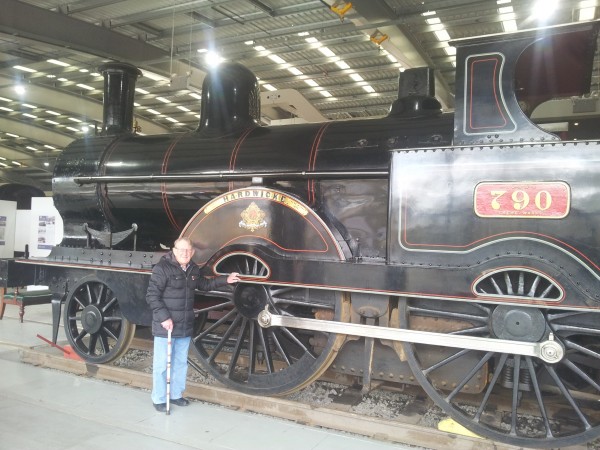 A blind veteran from Durham has been able to reignite his interest in museums with the help of a volunteer from Durham.
Michael Gray, 73 has been visiting various museums since January with Robin Trounson, a volunteer from Blind Veterans UK, the national charity for vision-impaired ex-Service men and women.
Robin says: "Michael likes museums but unfortunately his enthusiasm is not shared by his family, so he rarely gets the chance to visit them!
"We visited the Oriental Museum in Durham in March where we focused mainly on the Egyptian collection. Unfortunately the lighting wasn't great inside but we got round this by me reading out loud the many information boards on display. Just by the questions and comments Michael had, you can sense a real curiosity in the funerary practices of the ancient Egyptians. It was a thoroughly enjoyable day."
For Michael, who Served in the Royal Navy from 1959 to 1970, the opportunities he's had to explore museums have been highly welcome. He says: "Put it this way, I'm enormously grateful for the functional support that Social Services has provided me with. Blind Veterans UK, on the other hand, has been the best thing that could have happened to me.
"Beforehand, if I'm honest, I felt left on a bit of a limb, whereas now, thanks to Blind Veterans UK, I now feel part of a large family. Everyone has similar problems, experiences and issues, and as a result I no longer feel isolated. I'm particularly grateful for days such as the ones Robin and I get to share visiting museums, as well as for the help I've received in my garden."
Following March's visit, Robin has accompanied Michael to both the National Railway Museum in Shildon and the Botanical Gardens in Durham. Robin explains: "The Botanical Gardens in particular were enjoyable, a true haven of peace and tranquillity. There were many sights, many smells and many sounds to enjoy on what was a fine summers' day."
While Robin is no stranger to the world of volunteering, he maintains that being able to witness the support offered by Blind Veterans UK has been a highly enriching one. He explains: "I've been volunteering for some time now, it's always enjoyable but accompanying Michael has made a big impression on me. The support Blind Veterans UK provides him with is truly wonderful."
Indeed it appears the impact made both by and to Michael has been longstanding, and with Volunteering Week on the horizon, the time has never been better for others to get involved. From June 1 – 7, Volunteering Week will take place in the UK to celebrate the difference volunteers make to every community across the country.
To find out how you might be able to volunteer for Blind Veterans UK and make a difference in your local community, please visit: blindveterans.org.uk/volunteer.
As Robin says: "Every time we meet up I have an enjoyable time, it's a thoroughly rewarding experience. I'm actually familiar with many of the places we visit, but Michael's interest and gratitude makes the experience both novel and rewarding."
ENDS
For all media enquiries please contact: Felix Arbenz-Caines, PR Assistant, Blind Veterans UK, 12 – 14 Harcourt Street, London, W1H 4HD, E: felix.arbenz-caines@blindveterans.org.uk, T: 020 7616 7941
Notes to Editors
Blind Veterans UK
Blind Veterans UK is a national charity that believes that no-one who has served our country should have to battle blindness alone. Founded in 1915, the charity provides blind and vision impaired ex-Service men and women with lifelong support including welfare support, rehabilitation, training, residential and respite care.
Find out more at: blindveterans.org.uk, follow us on Facebook at: facebook.com/blindveteransuk and on Twitter at: twitter.com/blindveterans.