A blind D-Day veteran would like to thank the public for sending him a total of 128 birthday cards after the military charity Blind Veterans UK backed an appeal for him to be sent cards for his 100th birthday.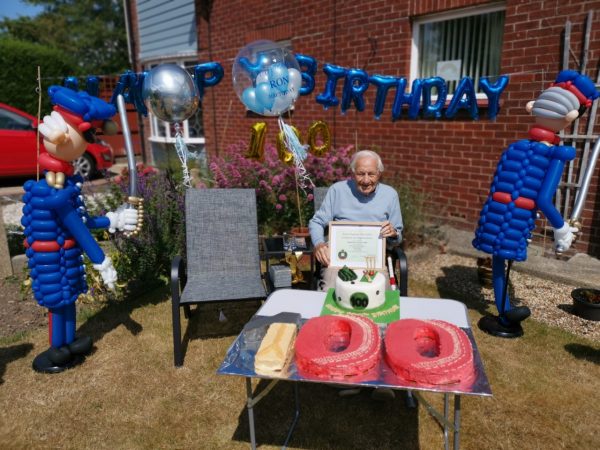 Ron Cross, celebrated his birthday in isolation, two days after the 76th anniversary of the D-Day landings. The appeal was launched by Ron Cross MBE's granddaughter, Amy Cross. She says:
"Thank you to everyone who sent my wonderful grandad a birthday card.  We couldn't have the 100th birthday party that we'd imagined but he was thrilled with all the cards he received. It made his day very special. Also a special thank you to Bind Veterans UK for helping with the appeal and for everything that they do for him".  
Ron served in the 79th Armoured Division, a specialist unit created specifically to form the first line of attack as part of the Allied invasion force. As part of the Armoured Vehicles Royal Engineers, Ron and his fellow engineers were responsible for landing tanks and clearing minefields set by the Germans before reinforcements arrived.
He was discharged as a Corporal in 1946, after which he returned to Gosport to work at Haslar Hospital as an Occupational Therapist for 37 years. He developed and built up the Occupational Therapy Department over a long career and received an MBE for his work at the hospital.
Ron's vision started to deteriorate in 2009 and he was later diagnosed with age-related macular degeneration (ARMD). He began receiving support from Blind Veterans UK in 2012.
He says:
"Once my sight started to get worse I thought that I should stop driving and went to my optometrist who said that I would have to stop. My sight has got worse steadily since then.

"Blind Veterans UK are marvellous. Three years ago I couldn't write a letter anymore because my sight had got so bad. But I went on a Blind Veterans UK IT course and they have given me all the training and equipment I need to carry on. I have a special screen that magnifies what I write and software that reads it back to me.

"I can now send emails which is so important for keeping in touch with people like my grandchildren."
Amy says:
"Blind Veterans UK gave my grandad a computer which speaks to him so he can use it despite not being able to see much. I love telling people that my 100 year old grandad sends me emails, I'm so proud of him!" 
Blind Veterans UK has adapted its service to support its 5,000 beneficiaries, 90% of whom are over 70 and thus being advised by the Government to self-isolate. The National Support Service will help blind veterans through this period of social isolation.
Nicky Shaw, Blind Veterans UK Director of Operations said:
"Having to self-isolate, blind veterans need our help right now with daily tasks, such as the shopping, and constant emotional support through this difficult time. So we are temporarily changing our service and mobilising our staff to provide practical, essential support to help the most vulnerable."

"There is so much that we can and must do to support blind veterans to help them maintain physical and emotional wellbeing, and to feel safe, reassured and cared for during this crisis."
You can keep updated on Blind Veterans UK's response to Covid-19 at blindveterans.org.uk/coronavirus where you can also find out more about supporting the charity to make this new service possible.