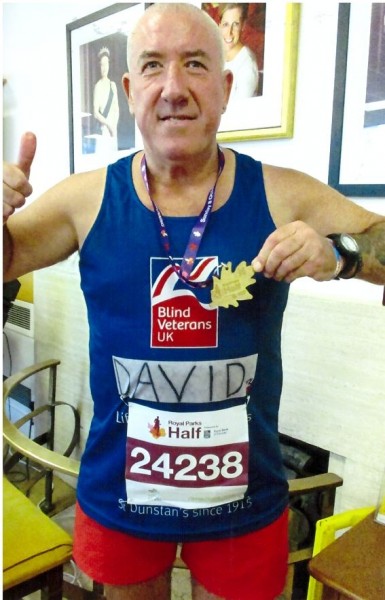 A blind veteran from County Durham has completed the Royal Parks Foundation Half Marathon for Blind Veterans UK, the national charity for vision-impaired ex-Service men and women, after it supported him following his sight loss.
David Cranson, 63, competed in what was his 23rd fundraising challenge for the charity since joining in June 2007. David, who suffers from bilateral optic atrophy, says: "The London crowds were as fantastic as ever. People were recognising the name on my vest and the support was endless. My guide, James, even said he was astonished at the number of people shouting for me!
"I won't lie, I welled up several times. I've now been with the charity for over ten years and they've truly got my life back on track!
"When I first started receiving support and they found out I liked sport I was invited down to the sports department in their training and rehabilitation centre in Brighton. After that, things just spiralled out of control!"
David, who served in the Royal Artillery from 1971 to 1975, began his fundraising endeavours in 2009 with the famed 100k London to Brighton challenge, a gruelling 24-hour endurance test that saw David compete on the back of a tandem. Since then, he's completed eight Olympic distance triathlons, four sixty-mile tandem drives, three Great South Runs, three Brighton Half Marathons, one Royal Parks Half Marathon, one London Marathon, one Brighton Marathon and one South Downs Way 75-mile five-day trek.
He summarises: "There's no stopping me now! There's been no stopping me since 3 June 2008. In total I've raised £2,312 for the charity and it's just been a tremendous journey, Blind Veterans UK has introduced me to so much. This year's Royal Windsor Triathlon was my eighth consecutive triathlon!
"I average about three a year; one in January, one in summer and one in autumn. It's just what I needed. The crowds at these events are unbelievable, it's just the most incredible buzz."
David, who won the Outstanding Achievement Award at the Blind Veterans UK Founder's Day Awards in 2012, is keen to encourage any beneficiaries to get active within the charity in any way they can. He says: "I would explain to any blind veteran, new or old, exactly where I was when I became part of the charity. It was a dark place. A very dark place indeed. Despite that, I can now say I am totally fulfilled.
"What I've been asked over the years is to develop the three a's: accept, adapt and achieve. That's now my motto! So to any beneficiary, I'd say get down to the Brighton centre and find your level. Whether that's in IT, Art and Craft or sport. It doesn't matter what it is, all that matters is getting on and improving your life."
The Royal Parks Foundation Half Marathon, took place on 8 October, is one of the most popular events in the UK, taking participants through Hyde Park, Green Park, St James's Park and Kensington Gardens.
Blind Veterans UK was founded in 1915 and the charity's initial purpose was to help and support soldiers blinded in the First World War. But the organisation has gone on to support more than 35,000 blind veterans and their families, spanning WWII to recent conflicts including Iraq and Afghanistan. They have set the ambitious target to double the number of veterans receiving its life changing support by 2022.
For more than a century, the charity has been providing vital free training, rehabilitation, equipment and emotional support to blind and vision-impaired veterans no matter when they served or how they lost their sight. Visit blindveterans.org.uk/support to learn more about the charity and how you can support its vital work today.
For all media enquiries please contact: Felix Arbenz-Caines, PR Assistant, Blind Veterans UK, 12 – 14 Harcourt Street, London W1H 4HD, E: Felix.Arbenz-Caines@blindveterans.org.uk, T: 020 7616 7941
Notes to Editor
Blind Veterans UK
Blind Veterans UK is a national charity that believes that no-one who has served our country should have to battle blindness alone. Founded in 1915, the charity provides blind and vision impaired ex-Service men and women with lifelong support including welfare support, rehabilitation, training, residential and respite care.
Find out more at: blindveterans.org.uk, follow us on Facebook at: facebook.com/blindveteransuk and on Twitter at: twitter.com/blindveterans.