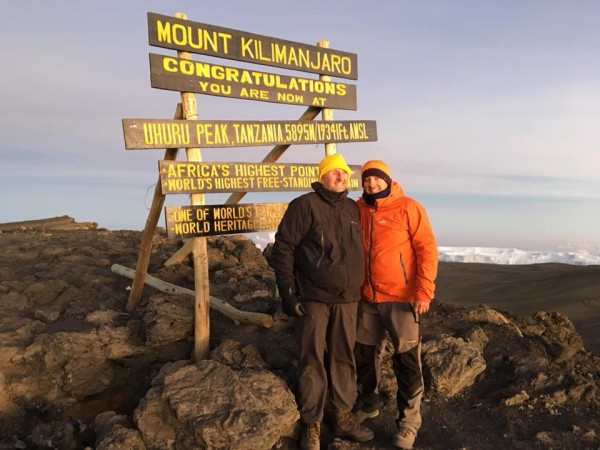 A blind veteran from East Sussex has successfully climbed Mount Kilimanjaro for Blind Veterans UK, the national charity for vision-impaired ex-Service men and women.
Mark Threadgold, 49 and from Saltdean, says: "It was a brilliant experience and couldn't have gone better.
"I billed it as the trip of the lifetime and it absolutely was. It was a true privilege to stand on the roof of Africa."
Mark completed the climb with a company called Charity Challenge, who arranged The Big Red Nose Climb for Comic Relief in 2009. He says: "They were absolutely on the ball, everyone from the top down worked their socks off.
"There were about 57 support staff in total, providing everything from entertainment in the evening to food during the day. I have a limited sense of taste, so I tend to take tabasco sauce with me everywhere. During the climb I didn't even open it once, the food was that good."
Alongside Mount Kilimanjaro, the world's tallest free-standing mountain, Mark has also climbed Mount Snowdon, part of Ben Nevis and also taken part in a trek of Iceland, which was arranged by The Not Forgotten Association and funded by Help For Heroes. He says: "The Iceland trek was amazing and actually fantastic preparation for Mount Kilimanjaro. I hadn't been camping for donkey's years so it was great to familiarise myself with all of that again."
Along with a dedicated guide from Charity Challenge, Mark was joined by Russell Scullion, a Sport and Recreation Instructor at Blind Veterans UK. Mark, who is completely blind, maintains that the trust and communication between himself and Russell was of paramount importance for the climb, which began on 13 October. He explains: "The guiding aspect of things was absolutely crucial.
"To be able to have that trust and seamless communication was vital and something we worked on very hard in preparation."
Mark's passion for sport began in the Army and, despite losing his sight, he has continued to consistently challenge himself in a variety of sporting formats.
Chief amongst his personal achievements are three world records. The first came in 2002 when he became the world's fastest blind circumnavigator of the Isle of Wight in a rigid inflatable boat, travelling 57.74 nautical miles in just 1 hour and 50 minutes. In 2003, Mark set the Water Speed World Record in the Ultimate Blind Class when he drove a blade runner offshore racing powerboat across Windermere, reaching 99.19 mph. Later, in 2006, Mark set the record for the deepest scuba dive and closed-circuit rebreather dive by a blind person after diving 103 metres in the Red Sea.
Mark, who served in the Royal Corps of Signals from 1984 to 2001, started receiving support from Blind Veterans UK in 1999. He says: "It's been an enormous help. The main thing has been independent living, whether that's through computer or cooking equipment, they've really given me the confidence to go out there and continue doing what I was doing, and of course try many, many new things.
"'Put up and shut up' is something I've gotten used to being told and it's worked out pretty well so far!"
You can still support Mark following his climb of Mount Kilimanjaro at visit: justgiving.com /mark-threadgold.
Blind Veterans UK was founded in 1915 and the charity's initial purpose was to help and support soldiers blinded in the First World War. But the organisation has gone on to support more than 35,000 blind veterans and their families, spanning WWII to recent conflicts including Iraq and Afghanistan. They have set the ambitious target to double the number of veterans receiving its life changing support to over 8,000 by 2022.
For more than a century, the charity has been providing vital free training, rehabilitation, equipment and emotional support to blind and vision-impaired veterans no matter when they served or how they lost their sight. Visit blindveterans.org.uk/support to learn more about the charity and how you can support its vital work today.
For all media enquiries please contact: Felix Arbenz-Caines, PR Assistant, Blind Veterans UK, 12 – 14 Harcourt Street, London W1H 4HD, E: Felix.Arbenz-Caines@blindveterans.org.uk T: 020 7616 7941
Notes to Editor
Blind Veterans UK
Blind Veterans UK is a national charity that believes that no-one who has served our country should have to battle blindness alone. Founded in 1915, the charity provides blind and vision impaired ex-Service men and women with lifelong support including welfare support, rehabilitation, training, residential and respite care.
Find out more at: blindveterans.org.uk, follow us on Facebook at: facebook.com/blindveteransuk and on Twitter at: twitter.com/blindveterans.