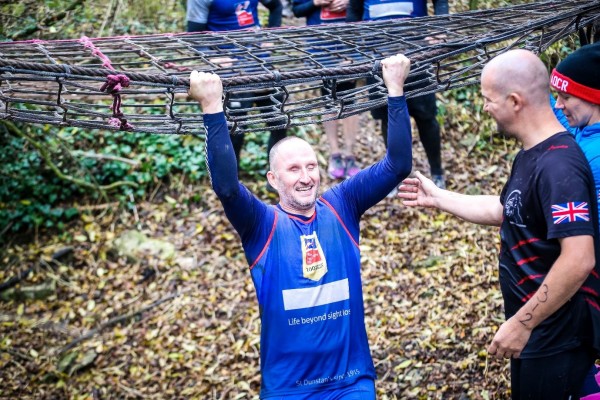 A blind veteran from East Sussex is currently preparing to embark on a three-day Iceland trek with Blind Veterans UK, the national charity for blind and vision-impaired ex-Service men, and The Not Forgotten Association.
Mark Threadgold, 49 and from Saltdean, was in the gym in the charity's training and rehabilitation centre in Brighton when he first came across the challenge, which will begin on 31 August and has been arranged by The Not Forgotten Association. He says: "One of the instructors mentioned something about this Iceland trek. I'm always up for a challenge so I said, 'why not'? That was that!"
2017 is proving to be a typically busy year for Mark, who sadly lost his sight in an accident in 1999. He explains: "I've taken part in a number of challenges with Blind Veterans UK, including a triathlon and an assault course. This year alone I've climbed Snowdon and most of Ben Nevis. The reason we didn't do the whole thing was purely time-related!"
Mark, who'll be taking on the challenge with fellow blind veteran Steve, has a passion for sport that begun in the Army, and despite losing his sight, he has continued to consistently challenge himself in a variety of sporting formats.
Chief amongst his personal achievements are three world records. The first came in 2002 when he became the world's fastest blind circumnavigator of the Isle of Wight in a rigid inflatable boat, travelling 57.74 nautical miles in just 1 hour and 50 minutes. In 2003, Mark set the Water Speed World Record in the Ultimate Blind Class when he drove a blade runner offshore racing powerboat across Windermere, reaching 99.19 mph. Later, in 2006, Mark set the record for the deepest scuba dive and closed-circuit rebreather drive by a blind person after diving 103 metres in the Red Sea.
He adds: "I'm also set to climb Mount Kilimanjaro in October. That's the big one. That's what makes this Iceland trek perfect in so many ways, it'll be a continuation of my training and a wonderful experience at the same time."
Mark explains that, given his sight loss, one of the most important things he trains on is how he interacts with his guide. Mark says: "I'm completely blind so it's really important that the trust is there. We're doing it with two guides from the charity so I know I'll be in safe hands.
"What's also a massive help is the walking sticks we've been supplied with. They're absolutely essential. I actually managed to break mine the other day, though to be fair I'm not sure leaning 13 stone onto it was the best idea!"
Mark, who served in the Royal Corps of Signals from 1984 to 2001, started receiving support from Blind Veterans UK in 2000. He says: "It's been an enormous help. The main thing has been independent living, whether that's through computer or cooking equipment, they've really given me the confidence to go out there and continue doing what I was doing, and of course try many, many new things.
"'Put up and shut up' is something I've gotten used to being told and it's worked out pretty well so far! Next stop, Iceland!"
The event, which is being funded by Help for Heroes, will see the Mark and Steve begin in Landmannalaugar, crossing through Álftavatn and Emstrur before eventually finishing in Reykjavik.
Blind Veterans UK was founded in 1915 and the charity's initial purpose was to help and support soldiers blinded in the First World War. But the organisation has gone on to support more than 35,000 blind veterans and their families, spanning WWII to recent conflicts including Iraq and Afghanistan. They have set the ambitious target to double the number of veterans receiving its life changing support to over 8,000 by 2022.
For more than a century, the charity has been providing vital free training, rehabilitation, equipment and emotional support to blind and vision-impaired veterans no matter when they served or how they lost their sight. Visit blindveterans.org.uk/support to learn more about the charity and how you can support its vital work today.
For all media enquiries please contact: Felix Arbenz-Caines, PR Assistant, Blind Veterans UK, 12 – 14 Harcourt Street, London W1H 4HD, E: Felix.Arbenz-Caines@blindveterans.org.uk, T: 020 7616 7941
Notes to Editor
Blind Veterans UK
Blind Veterans UK is a national charity that believes that no-one who has served our country should have to battle blindness alone. Founded in 1915, the charity provides blind and vision impaired ex-Service men and women with lifelong support including welfare support, rehabilitation, training, residential and respite care.
Find out more at: blindveterans.org.uk, follow us on Facebook at: facebook.com/blindveteransuk and on Twitter at: twitter.com/blindveterans.
Not Forgotten Association
The Not Forgotten Association is a unique national tri-service charity which provides entertainment and recreation for the benefit of the serving wounded, injured or sick and for ex-service men and women with disabilities.
Help for Heroes
Help for Heroes supports those with injuries and illnesses sustained while serving in the British Armed Forces. No matter when someone served, we give them the support they need to lead active, independent and fulfilling lives. Our specialist team focuses on the five key areas of an individual's life: medical, mind, body, spirit and family. We provide support to the whole family to help them all cope with the challenges they face. Long-term recovery is more than repairing damaged bodies and minds; it's about rebuilding lives.