A blind veteran from Worthing will join a cavalcade of bikers on Saturday 10 August for the annual Ride for Life Beyond Sight Loss, with all funds raised going to Blind Veterans UK, the national charity for vision-impaired ex-Service men and women.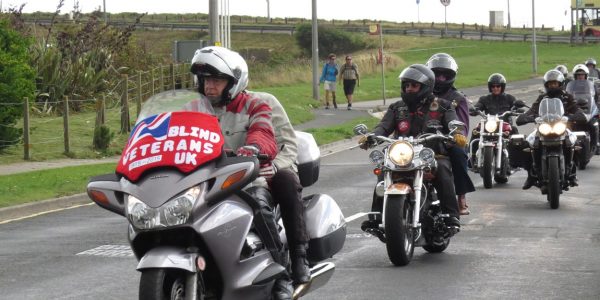 Carole Sharpe, in her 70s, will ride pillion on one of the motorbikes as the group departs from Moreton-in-Marsh on the morning of Saturday 10 August. The ride will first stop at the Army Flying Museum in Stockbridge followed by a visit to the D-Day Landing Room at Portsmouth. Day trippers on Brighton seafront will be able to spot the bikers in the afternoon as they head towards their final destination, the Blind Veterans UK training and rehabilitation centre in Ovingdean.
Carol says "I'm very much looking forward to the ride – I just love the exhilaration of being on a bike. A lot of [blind veterans] all enjoy an adrenaline rush, and there are lots of things we can't do without the help of a sighted person. What is really wonderful is the description of the journey we get form the bikers on the intercom, even though I'm not able to see the countryside it makes me feel like I can appreciate the changing scenery.
"In my youth I would ride on the back of an old BSA my brother used for scrambling. I loved the fresh air and the feel of freedom – whether you're sighted or not, you can still get that from a motorbike. Mind you, the bikes are much more comfortable than they used to be!"
Carol joined the Fleet Air Arm as A Wren in September 1955 and served at various UK air stations before leaving the service. She then completed a degree in electrical engineering at Aberdeen University. She has been receiving support from Blind Veterans UK since 2007 and regularly takes part in fundraising events and activities.
All funds raised from the Ride for Life Beyond Sight Loss go toward the charity's work supporting blind veterans in the local community.
To join #TeamBlindVeterans and sign up for the event with your own motorcycle, visit blindveterans.org.uk/rideforlife
For all media enquiries please contact:
Ailie MacDonald Wilson
Regional Marcomms Executive
E: ailie.macdonaldwilson@blindveterans.org.uk
T: 07599 535484
Notes to editor:
Blind Veterans UK helps vision-impaired ex-Service men and women of every generation rebuild their lives after sight loss. Since 1915, we've provided rehabilitation, training, practical advice and emotional support to tens of thousands of blind veterans.
Find out more at: blindveterans.org.uk and follow us on Facebook at: facebook.com/blindveteransuk and on Twitter at: twitter.com/blindveterans.