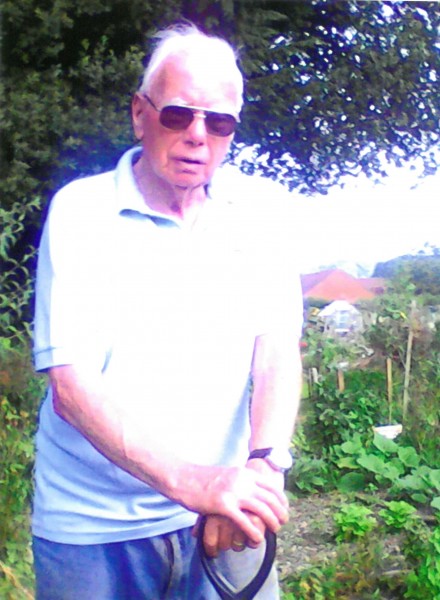 A blind veteran from Berkhamsted who receives vital support from Blind Veterans UK, the national charity for vision-impaired ex-Service men and women, has visited the charity's gold medal-winning show garden at the prestigious RHS Hampton Court Palace Flower Show this July.
Stanley Grace, 88 and from Northchurch, visited the garden as part of a special week of gardening activities for blind veterans with green fingers held at the Blind Veterans UK training and rehabilitation centre in Brighton.
Stanley, who visited with his wife, Catherine, enlisted in the Royal Army Catering Corps in November 1946 as part of his National Service. He later demobbed in January 1949. He says: "Unfortunately I was never able to travel abroad. I contracted corneal ulcers on two separate occasions, meaning I spent a lot of time in Chester Military Hospital."
It was ten years ago when Stanley started to lose his sight due to age related macular degeneration (ARMD) and glaucoma. He explains: "The glaucoma came slightly before, so I had already been visiting the clinic quite regularly. They then discovered that I had ARMD too, which came as a bit of a shock, I'll admit."
Speaking on his current vision, he says: "When I'm out and about, something has to be within 25 yards for me to see it properly. Similarly, when I meet people, they often have to remind me who they are as everything is blurred."
Fortunately, for Stanley, his friend John, with whom he volunteered at a local organisation that transported the elderly to mental health hospitals, recommended he look into Blind Veterans UK. Stanley explains: "I didn't realise I was eligible at first, having done National Service. John soon told me I was and thank goodness for that. They've been fantastic, that's the only word I can use.
"Catherine and I both love going to the Brighton and Llandudno centres. We've never had any worries or complaints, the care we get is fantastic. I know that if I ever needed help, I can call and someone will be there for me."
On the provisions he's received from the charity, he explains: "I've been given CCTV magnifying equipment which is great. I can write letters when I need to and read all the bank statements! What was always a problem, too, before, was looking at family snaps. Now I can look at them all the time."
For Stanley, his interest in and passion for gardening started at a young age. He explains: "My mother's family come from a farming background, and my late father's brother used to come over and help with our garden. It must've been at this time that I became hooked.
"For as long as I can remember I have loved gardening. It's the being outdoors, it's the wonderful therapy of it all. It's also fantastic for your physical fitness."
Stanley and Catherine are currently kept busy with their personal allotment, within which they continue to grow a range of flowers and vegetables. He explains: "I grow all sorts: potatoes, runner beans, broad beans, courgettes, beetroot and cabbages. I also grow most of the seedlings in our greenhouse, while Catherine does the home garden with them. It really is marvellous come the spring."
Despite his restricted vision, Stanley maintains it hasn't hindered his ability to indulge in his passion. He says: "I bought a kneeling frame which helps me adapt, it can be used as a seat too. I manage absolutely fine, I've got no complaints at all!"
The Blind Veterans UK 'It's all about community' garden was designed by celebrated designers Andrew Fisher Tomlin & Dan Bowyer and was one of the largest show gardens at Hampton Court this year. Not only did the garden receive the Best Construction Award, but it was also one of just three gardens to receive a prestigious gold medal.
Blind Veterans UK supports veterans regardless of when they served or how they lost their sight. The Blind Veterans UK community has grown and the charity now supports more than 4,500 veterans, more than ever before in its history.
However, the charity estimates that there are up to 55,000 blind veterans that would be eligible to access its specialist support but are not currently aware of it.
Chief Executive of Blind Veterans UK, Major General (Rtd) Nick Caplin CB, said: "Our garden, at the prestigious RHS Hampton Court Palace Flower Show, was a fantastic opportunity to reach out to the thousands of blind veterans out there who don't yet know they're entitled to our support.
"Blind Veterans UK has set an ambitious target to double the number of veterans we support in the next five years. The garden represented the community of blind veterans that we hope to grow. As the average age of the veterans we support is rising, we have now extended our services to provide more practical and emotional support closer to our beneficiary's own communities.
"If you, or someone you know, served in the Armed Forces, including National Service, and is now battling severe sight loss then please do get in touch with us."
Stanley says: "Blind Veterans UK sets out to do all that it needs to. It helps people live as normal a life as possible. The more people they can support, the better. At my local blind club in Berkhamsted, I've already introduced two other veterans to the charity. They're loving it and really making use of the support that's on offer."
Blind Veterans UK was founded in 1915 and the charity's initial purpose was to help and support soldiers blinded in the First World War. But the organisation has gone on to support more than 35,000 blind veterans and their families, spanning WWII to recent conflicts including Iraq and Afghanistan.
For more than a century, the charity has been providing vital free training, rehabilitation, equipment and emotional support to blind and vision-impaired veterans no matter when they served or how they lost their sight. If you, or someone you know, served in the Armed Forces, including National Service, and is now battling severe sight loss, find out how Blind Veterans UK could help by calling 0800 389 7979 or visiting blindveterans.org.uk/noonealone.
For all media enquiries please contact: Felix Arbenz-Caines, PR Assistant, Blind Veterans UK, 12 – 14 Harcourt Street, London, W1H 4HD, E: felix.arbenz-caines@blindveterans.org.uk, T: 020 7616 7941
Notes to Editor
Blind Veterans UK
Blind Veterans UK is a national charity that believes that no-one who has served our country should have to battle blindness alone. Founded in 1915, the charity provides blind and vision impaired ex-Service men and women with lifelong support including welfare support, rehabilitation, training, residential and respite care.
Find out more at: blindveterans.org.uk, follow us on Facebook at: facebook.com/blindveteransuk and on Twitter at: twitter.com/blindveterans.