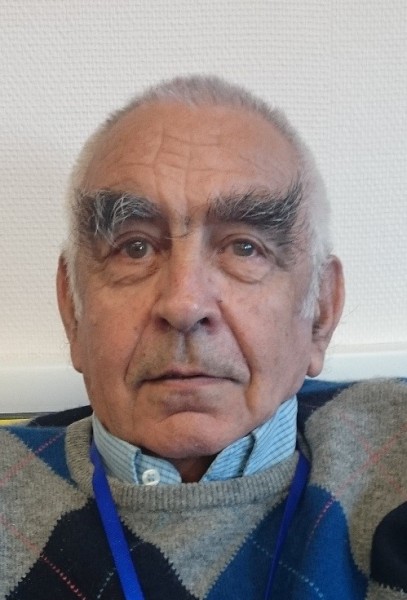 A blind veteran from Newtown who has received vital support from Blind Veterans UK, the national charity for vision-impaired ex-Service men and women, will be contributing to the charity's show garden at the prestigious RHS Hampton Court Palace Flower Show this July.
Andy Rae, 77 and originally from Hackney, has made a miniature garden for the flower show, titled Garden Towers, which won the award for the  Most Creative Miniature Garden at the charity's recent gardening week held at their training and rehabilitation centre in Llandudno.
Born in June 1939, Andy was called up for National Service in August 1957, signing on as a Regular Aircraftman, before later enlisting as a regular serviceman.
Andy says: "The pay was better if you were a regular, so after my National Service I signed up. I worked as a dog handler for about four years, then for the rest of my Service I was in nursing.
"I was stationed in various places across the country and indeed the world, including Germany and Aden, performing air and medical evacuations."
Unfortunately for Andy, he began to lose his sight in 2005. He explains: "I suffered from a detached retina in my left eye, and by the time I'd seen various specialists they decided it was too late to reattach it.
"As far as my right eye goes, it all happened quite suddenly. I woke up one Sunday morning, I went to answer the door and could only see half of the person standing in front of me. I went to the doctors and they said it was the result of an old stroke I'd suffered."
Andy, who describes his remaining vision is partial and limited to his right eye, admits sight loss was a struggle to adjust to. On how he came to hear of Blind Veterans UK, he explains: "When I lost partial sight in my right eye, I had someone from Guide Dogs come to do my white cane training. She also suggested that, as a veteran, I get in touch with Blind Veterans UK.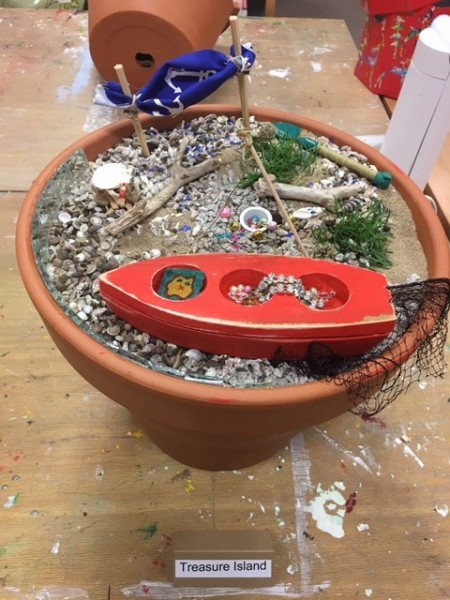 "They've been very helpful. Practically anything you want, they'll try their best to get for you. I had my induction week at their Llandudno centre and it was great, they taught us all sorts and sent us on our way with a few bits of useful equipment to help us round the house."
For Andy, gardening has long been a big part of his life. It began in earnest when he moved to Llanidloes in 1984 and joined Llanidloes Gardening Club. He explains: "I took it up with a local club and eventually became Secretary. We used to go to shows all the time, including the Royal Welsh Show, The Shrewsbury Show and quite a few local village ones. We ended up winning quite a few cups as well, actually."
Andy specialises in fuchsias, having at one time had over 300 different varieties. He says: "I don't know what it was about them, one day I just decided I liked them, so I stuck with them!"
When he's not competing, Andy still maintains an active interest. He says: "I've always kept active in my own garden, wherever I've lived. Right now I've got a small garden, mainly full of pots and, yes, still plenty of fuchsias!
"I also keep vegetables – beans, potatoes and various other sorts – along with other kinds of flowers and carnations. I don't know what it is about gardening, there's just something infinitely relaxing about it. You can achieve something, too, which I like. And of course, it's the competition of the shows that I like too."
The Blind Veterans UK 'It's all about community' garden has been designed by celebrated designers Andrew Fisher Tomlin & Dan Bowyer and it will be one of the largest show gardens at Hampton Court this year.
Blind Veterans UK supports veterans regardless of when they served or how they lost their sight. The Blind Veterans UK community has grown and the charity now supports more than 4,500 veterans, more than ever before in its history.
However, the charity estimates that there are up to 55,000 blind veterans that would be eligible to access its specialist support but are not currently aware of it.
Chief Executive of Blind Veterans UK, Major General (Rtd) Nick Caplin CB, said: "This garden, at the prestigious RHS Hampton Court Palace Flower Show, is a fantastic opportunity to reach out to the thousands of blind veterans out there who don't know they're entitled to our support.
"Blind Veterans UK has set an ambitious target to double the number of veterans we support in the next five years. This garden represents the community of blind veterans that we hope to grow. As the average age of the veterans we support is rising, we have now extended our services to provide more practical and emotional support closer to our beneficiary's own communities.
"If you, or someone you know, served in the Armed Forces, including National Service, and is now battling severe sight loss then please do get in touch with us."
Blind Veterans UK was founded in 1915 and the charity's initial purpose was to help and support soldiers blinded in the First World War. But the organisation has gone on to support more than 35,000 blind veterans and their families, spanning WWII to recent conflicts including Iraq and Afghanistan.
For more than a century, the charity has been providing vital free training, rehabilitation, equipment and emotional support to blind and vision-impaired veterans no matter when they served or how they lost their sight. If you, or someone you know, served in the Armed Forces, including National Service, and is now battling severe sight loss, find out how Blind Veterans UK could help by calling 0800 389 7979 or visiting blindveterans.org.uk/noonealone.
For all media enquiries please contact: Felix Arbenz-Caines, PR Assistant, Blind Veterans UK, 12 – 14 Harcourt Street, London, W1H 4HD, E: felix.arbenz-caines@blindveterans.org.uk, T: 020 7616 7941
Notes to Editor
Blind Veterans UK
Blind Veterans UK is a national charity that believes that no-one who has served our country should have to battle blindness alone. Founded in 1915, the charity provides blind and vision impaired ex-Service men and women with lifelong support including welfare support, rehabilitation, training, residential and respite care.
Find out more at: blindveterans.org.uk, follow us on Facebook at: facebook.com/blindveteransuk and on Twitter at: twitter.com/blindveterans.