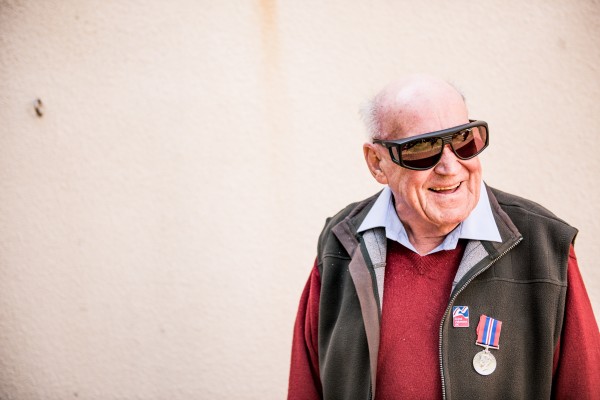 A blind veteran from Southampton who receives vital support from Blind Veterans UK, the national charity for vision-impaired ex-Service men and women, has visited the charity's gold medal-winning show garden at the prestigious RHS Hampton Court Palace Flower Show.
Keith Ott, 90 and from Hedge End, visited the garden as part of a special week of gardening activities for blind veterans with green fingers held at the Blind Veterans UK training and rehabilitation centre in Brighton.
After initially joining the Home Guard at the age of 16, Keith volunteered for the Army when he turned 17. He eventually joined the Royal Engineers as a Wireless Operator and was stationed on the south coast. He adds: "Not long after I flew out to Libya. It was an extraordinarily long flight and we only ended up staying there for one night! The following day we left for Egypt where was stayed for a month, just to get acclimatised.
"At this point I was in the 61st Light Airborne Division. We flew to India before travelling to Burma where we were on the second line of defence for the Assam battle.
Shortly after this, and while Keith was still in Burma, the atomic bombs were dropped in Nagasaki and Hiroshima. After quick stops in Singapore and Hong Kong, Keith and his division then joined up with the Australian Royal Engineers just outside of Hiroshima. Keith recalls: "We combined to make one unit. The barracks was ready for us. It was an interesting experience, to say the very least! All kinds of nonsense took place there."
Keith continues: "We'd only been round there for a day or two when the Commanding Officer asked if I, a jeep driver, wanted to look around Hiroshima. We were only ten miles away so it was simply a quick dash there.
"It was like nothing I'd ever seen before. Completely flat with just two buildings left standing. We climbed to the top of what was left of a newspaper block and from there, we could just about make out a cathedral in the background. Again, just the shell of it."
Following his time in Hiroshima, Keith was again relocated, this time to Matsui, where he'd spend six months with an Australian man from his new unit. Keith says: "They kept the beer coming so we had a good time!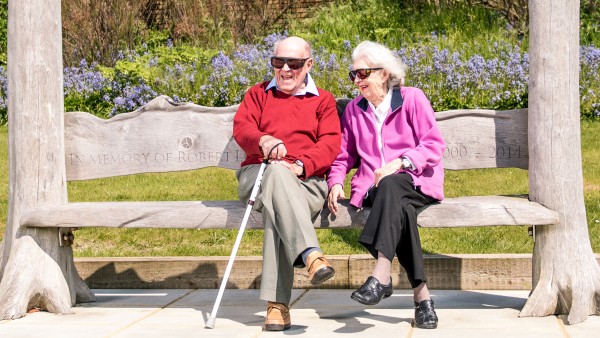 "From Matsui I was then sent to the island of Shikoku. After we'd been there a while they ordered me and my jeep to get on a train and head to Tokyo where I ended up staying until late 1947. They tried to persuade me to go to Australia but by this point I'd been away from home for so long, I just wanted to go home!"
After a slow journey back to Southampton, Keith was eventually demobbed in Halifax as a Sapper in 1948. He summarises of his time in Service: "It was one hell of an experience."
Following his return, Keith moved to Loughborough where he worked for Brush, a large engineering company, before moving to McLaren where he made engines. He eventually settled in Hampshire, where he still lives today.
Unfortunately for Keith, he suffers from age related macular degeneration, which has left him with severely limited sight. Of how he came to hear of Blind Veterans UK, he recalls: "I first heard about the charity from a totally blind member of the Freemasons I knew".
"I was astonished that everything the charity gives you is free and on loan for as long as you want it.  One of the best things I was given is my magnifier for reading.  Anything coming through my letterbox goes straight into it.  It is wonderful to be able to read your own post.
"I really enjoy my holidays at their Brighton centre.  There is companionship and it's just so relaxing. I can unwind completely and just enjoy doing absolutely nothing".
Keith says: "I am a keen gardener and have a large garden plus a greenhouse for growing fruit.  I grow typical English flowers like azaleas and chrysanthemums.  I now have a gardener come in to do the lawns and weeding as I can't tell the difference between weeds and small plants.  I don't plant annually anymore as my garden is nicely established.  My kids take me to garden centres too".
The Blind Veterans UK 'It's all about community' garden was designed by celebrated designers Andrew Fisher Tomlin & Dan Bowyer and was one of the largest show gardens at Hampton Court this year. It won the Best Construction Award, as well as a prestigious gold medal.
Blind Veterans UK supports veterans regardless of when they served or how they lost their sight. The Blind Veterans UK community has grown and the charity now supports more than 4,500 veterans, more than ever before in its history.
However, the charity estimates that there are up to 55,000 blind veterans that would be eligible to access its specialist support but are not currently aware of it.
Chief Executive of Blind Veterans UK, Major General (Rtd) Nick Caplin CB, said: "This garden, at the prestigious RHS Hampton Court Palace Flower Show, is a fantastic opportunity to reach out to the thousands of blind veterans out there who don't know they're entitled to our support.
"Blind Veterans UK has set an ambitious target to double the number of veterans we support in the next five years. This garden represents the community of blind veterans that we hope to grow. As the average age of the veterans we support is rising, we have now extended our services to provide more practical and emotional support closer to our beneficiary's own communities.
"If you, or someone you know, served in the Armed Forces, including National Service, and is now battling severe sight loss then please do get in touch with us."
Keith says: "I had a great time on the gardening week and especially enjoyed going to Hampton Court".
Blind Veterans UK was founded in 1915 and the charity's initial purpose was to help and support soldiers blinded in the First World War. But the organisation has gone on to support more than 35,000 blind veterans and their families, spanning WWII to recent conflicts including Iraq and Afghanistan.
For more than a century, the charity has been providing vital free training, rehabilitation, equipment and emotional support to blind and vision-impaired veterans no matter when they served or how they lost their sight. If you, or someone you know, served in the Armed Forces, including National Service, and is now battling severe sight loss, find out how Blind Veterans UK could help by calling 0800 389 7979 or visiting blindveterans.org.uk/noonealone.
For all media enquiries please contact: Felix Arbenz-Caines, PR Assistant, Blind Veterans UK, 12 – 14 Harcourt Street, London, W1H 4HD, E: felix.arbenz-caines@blindveterans.org.uk, T: 020 7616 7941
Notes to Editor
Blind Veterans UK
Blind Veterans UK is a national charity that believes that no-one who has served our country should have to battle blindness alone. Founded in 1915, the charity provides blind and vision impaired ex-Service men and women with lifelong support including welfare support, rehabilitation, training, residential and respite care.
Find out more at: blindveterans.org.uk, follow us on Facebook at: facebook.com/blindveteransuk and on Twitter at: twitter.com/blindveterans.