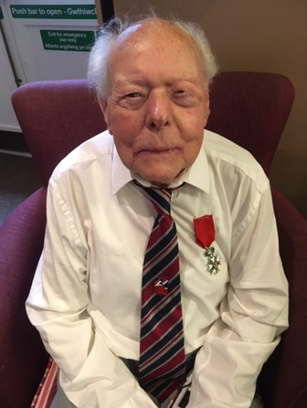 A blind veteran from Wigan who has received vital support from Blind Veterans UK, the national charity for vision-impaired ex-Service men and women, will be contributing to the charity's show garden at the prestigious RHS Hampton Court Palace Flower Show this July.
Dennis Clements, 92 and from Orrell, has made a miniature garden for the flower show, titled The Relaxation Garden, which won the award for the 'Best in Show Miniature Garden at the charity's recent gardening week held at their training and rehabilitation centre in Llandudno.
Dennis, born in 1925, joined the Royal Army Service Corps in 1943, before discharging in 1948 as a Sergeant. His five years' Service involved various tours of Europe, where he was primarily responsible for the management of ambulances.
Dennis recalls: "There was one particular story I always love to tell. It involved me accidently crashing an ambulance into a lamppost in Amsterdam, which unfortunately resulted in the lights going out in The Hague!"
Dennis was also involved in the D-Day landings, transporting diesel to the soldiers on the beach from D-Day 2+. Despite the many hardships and sufferings of the war, Dennis looks back upon his time of Service positively. He says: "Overall I look back on it as a good time in my life. I felt that I was doing something worthwhile; I loved the camaraderie and meeting new people. I also met my wife in Berlin!
"I wouldn't have changed any of it for the world."
After the war, Dennis worked as a foreman for Heinz, where he remained until his retirement at the age of 57. Unfortunately his eye sight began to deteriorate some 15 years ago. He explains: "I've got age related macular degeneration. It was a gradual process but it means that I'm now more or less blind in my right eye. I've also had merkel cell skin cancer which has affected my left eyelid. I've had to have it reconstructed with skin from my cheek. My family jokes that I now grow whiskers from my eyelid!"
Despite his severe sight loss, Dennis has been able to maintain an uplifting outlook on life. His daughter, Sylvia, explains: "He never stops smiling, never complains; he's just so grateful for everything everyone does for him. He's got a wonderful relationship with his doctors, they've left no stone unturned with their treatment of him and it's because of his manner with them."
Fortunately for Dennis, his doctors at St. Pauls Hospital in Liverpool told him he was eligible for the free lifelong support offered by Blind Veterans UK. He explains: "I just remember it sounding like a great idea. It's opened so many doors, we're just thrilled with the whole organisation.
"The staff at Blind Veterans UK are wonderful, I can't believe how genuine and caring they are. The care they've given us, the help, the contacts, everything. It's that feeling that you're not alone, that you're part of something much bigger – something you know you can always turn to for help."
For Dennis, gardening has always been a part of his life. From the moment he moved into his first home, the focus was always on making the most out of his extensive outdoor space.
He says: "After the war my wife and I moved into a new council house, it was a lovely property with a big garden. That's when I started gardening. Half the land was dedicated to vegetables and flowers, and the other half was for Sylvia to play in!
"We had a greenhouse and, if I'm honest, I think there's where my real passion lay. My wife and I got absolutely hooked on it. We spent an awful lot of time in gardening centres, learning about propagating and taking cuts, delving into any gardening magazine we could find."
Sylvia herself recalls just how central gardening was, and indeed remains, in her father's life. She says: "He's always got green fingers. Even now we go to garden centres regularly. He looks after my plants for me, his tomatoes are to die for!
"His sight loss had a real impact on his confidence, but when it comes to gardening he's completely unchanged. He'll be out there at seven in the morning, pottering, doing whatever he can until it's dark."
The Blind Veterans UK 'It's all about community' garden has been designed by celebrated designers Andrew Fisher Tomlin & Dan Bowyer and it will be one of the largest show gardens at Hampton Court this year.
Blind Veterans UK supports veterans regardless of when they served or how they lost their sight. The Blind Veterans UK community has grown and the charity now supports more than 4,500 veterans, more than ever before in its history.
However, the charity estimates that there are up to 55,000 blind veterans that would be eligible to access its specialist support but are not currently aware of it.
Chief Executive of Blind Veterans UK, Major General (Rtd) Nick Caplin CB, said: "This garden, at the prestigious RHS Hampton Court Palace Flower Show, is a fantastic opportunity to reach out to the thousands of blind veterans out there who don't know they're entitled to our support.
"Blind Veterans UK has set an ambitious target to double the number of veterans we support in the next five years. This garden represents the community of blind veterans that we hope to grow. As the average age of the veterans we support is rising, we have now extended our services to provide more practical and emotional support closer to our beneficiary's own communities.
"If you, or someone you know, served in the Armed Forces, including National Service, and is now battling severe sight loss then please do get in touch with us."
Blind Veterans UK was founded in 1915 and the charity's initial purpose was to help and support soldiers blinded in the First World War. But the organisation has gone on to support more than 35,000 blind veterans and their families, spanning WWII to recent conflicts including Iraq and Afghanistan.
For more than a century, the charity has been providing vital free training, rehabilitation, equipment and emotional support to blind and vision-impaired veterans no matter when they served or how they lost their sight. If you, or someone you know, served in the Armed Forces, including National Service, and is now battling severe sight loss, find out how Blind Veterans UK could help by calling 0800 389 7979 or visiting blindveterans.org.uk/noonealone.
For all media enquiries please contact: Felix Abrenz-Caines, PR Assistant, Blind Veterans UK, 12 – 14 Harcourt Street, London, W1H 4HD, E: felix.arbenz-caines@blindveterans.org.uk, T: 020 7616 7941
Notes to Editor
Blind Veterans UK
Blind Veterans UK is a national charity that believes that no-one who has served our country should have to battle blindness alone. Founded in 1915, the charity provides blind and vision impaired ex-Service men and women with lifelong support including welfare support, rehabilitation, training, residential and respite care.
Find out more at: blindveterans.org.uk, follow us on Facebook at: facebook.com/blindveteransuk and on Twitter at: twitter.com/blindveterans.