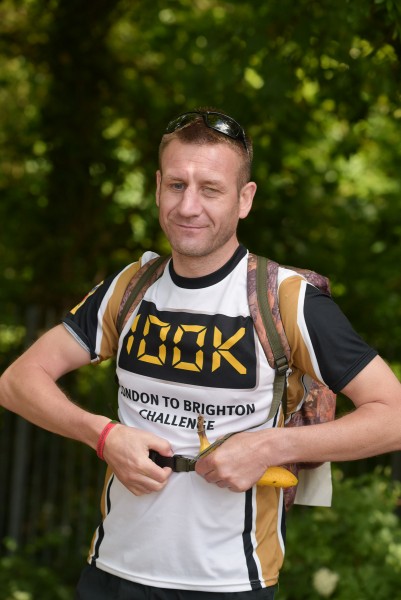 A blind veteran from Gwent is set to tackle his fourth Brighton Half Marathon for Blind Veterans UK, the national charity for vision-impaired ex-Service men and women.
Charlie Parkinson, 40 and originally from Wallasey, joined the 1st Battalion Kings Regiment in January 1995, serving in Catterick, Cyprus and Jordan. In 1998, Charlie left the army, before re-enlisting in November 2001, ultimately joining the Royal Army Medical Corps in 2002.
Unfortunately, in 2010, Charlie lost the sight in his left eye as a result of glaucoma and has severely limited vision in his right. It is the support and backing of Blind Veterans UK that Charlie counts as having helped him regain his confidence. He says: "It was purely by accident that I came to hear about Blind Veterans UK. One of my local authorities mentioned it to me so I got in touch with them in 2012. I'm honoured to be a part of the charity, I love it. I try to do as much as I can for them."
While a daunting task for most, Charlie remains unfazed by the 13-mile challenge. A keen sportsman from a young age, his sporting capabilities have seen him complete three Brighton Half Marathons, the Royal Parks Half Marathon, the Three Peaks challenge, two 100k London to Brighton challenges and three London Marathons – the last of which he'll will also be competing in this year.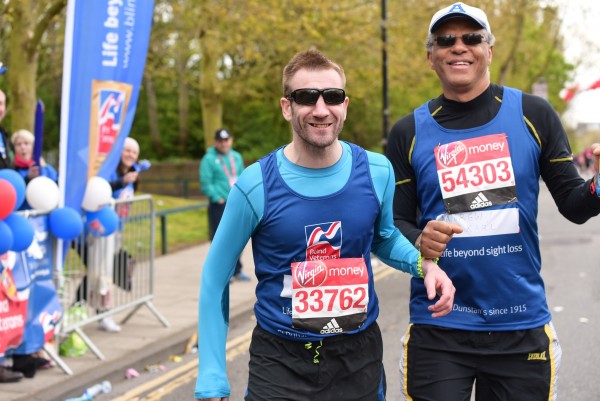 Charlie, who'll be guided in the Brighton Half and London Marathons by life-long friend and fellow veteran, Richard Kilby, is grateful to Blind Veterans UK for helping him continue his passion for sport. He says: "I've always been a runner. Obviously losing sight was a big thing for me, but joining Blind Veterans UK gave me the confidence and support to get back out there and start doing it again. That is the biggest thing the charity has given me, my confidence back."
The next Vitality Brighton Half Marathon will be held on 26 February. If reading Charlie's story has inspired you to take part on behalf of Blind Veterans UK, you can register here for just £20: http://ow.ly/FliA306UVmD. Blind Veterans UK will mail you their running jersey prior to the event, so that just like Charlie, you can wear it with pride as you're cheered on to the finish line.
To support Charlie, please visit his JustGiving page: https://www.justgiving.com/fundraising/CharliesChallenges2017
For all media enquiries please contact: Felix Arbenz-Caines, PR Assistant, Blind Veterans UK, 12 – 14 Harcourt Street, London, W1H 4HD, E: Felix.Arbenz-Caines@blindveterans.org.uk, T: 020 7616 7941
Notes to Editor
Blind Veterans UK
Blind Veterans UK (formerly St Dunstan's) is a national charity that believes that no-one who has served our country should have to battle blindness alone. It provides blind and vision impaired ex-Service men and women with lifelong support including welfare support, rehabilitation, training, residential and respite care.
The charity needs £100 million over 5 years to provide lifelong support to blind ex-Service men and women. Find out more at: www.blindveterans.org.uk, and follow us on Facebook at: www.facebook.com/blindveteransuk and on Twitter at: twitter.com/blindveterans.