https://www.youtube.com/watch?v=26G_kenQFQ4
A blind veteran from Hampshire who has been invited to compete in the inaugural Holman Prize has reached the final round.
Penny Melville-Brown OBE, from Fareham, has been selected as one of the 11 finalists from over 200 original entries. Run by the San Francisco Lighthouse organisation, three winners will be awarded $25,000 to achieve their ambitions. Penny's goal is to cook across six continents with her online Baking Project, Baking Blind.
She explains: "This all started from a very simple Baking Blind idea I had last year as a way of showing that we can still have great capabilities, ambitions and fun even with blindness or other disabilities. Being invited to enter the Holman Prize was a great boost for me in creating a YouTube channel and website.  All the entrants sent in short video clips and the semi-finalists produced more detailed project plans and budgets.
"If I'm lucky enough to win, I'll be cooking in America, Costa Rica, Australia, China and Malawi with professional and home-cooks, sighted or not."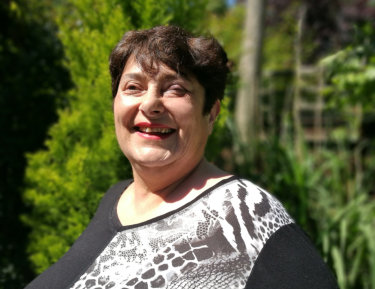 Penny maintains she's aiming for more than just the travel, explaining: "The adventure will give me enough material to produce a year of videos and blogs plus a recipe book. Most importantly, it will be a launch pad to change minds about life with an impairment in all those countries and, perhaps, even further afield. I've been wildly ambitious – it just wouldn't be possible without the prize."
The competition commemorates James Holman who, like Penny, lost his sight while serving in the Royal Navy. Despite this, he went on to travel the globe solo in the early 19th century, as celebrated in 'A Sense of the World', a biography written about his achievements.
Penny says: "It's difficult to imagine how he managed without all the technology and equipment that makes life possible with blindness nowadays. But I hope that our shared military backgrounds give me some of his courage and character. His early years in the Navy were spent just a few miles from where I live and there are almost certainly some landmarks he would have recognised in Portsmouth Naval Base where I often worked. This year adds another dimension: it is the centenary of the Women's Royal Naval Service, so I've already been sharing Navy memories and Baking Blind ideas through the WRNS 100 Facebook page."
Penny, who receives support from Blind Veterans UK, the national charity for vision-impaired ex-Service men and women, has some nail-biting weeks ahead. Over the next month, all the finalists' proposals will be considered by the Holman committee of 16 exceptional individuals from around the world who are all leaders in their fields, 15 of whom are blind and the 16th is Jason Roberts, who wrote the James Holman biography. The announcement of the first-ever Holman prize winners is due in early July.
Speaking about the Baking Blind website and YouTube video channel, Penny says: "I'm a straightforward home cook so there are lots of short videos of dishes that everyone will recognise – and if I can manage to make them, anyone can.  All the recipes are on the website and downloadable in accessible formats so that others with vision-impairments can use them too. I try to explain how touch, taste, smell and sound work together so that blindness doesn't get in the way."
Helping to celebrate the WRNS centenary, Penny has contributed tales of her Service career to a book chronicling the history of women in the Navy: the first woman to come top of the Lieutenants' Greenwich Course and the first woman naval barrister. After leaving the Royal Navy, she set up Disability Dynamics delivering projects helping other people with disabilities to start their own businesses.  She was awarded an OBE in 2009 for her services to disabled and other disadvantaged people.
ENDS
For all media enquiries please contact: Penny Melville-Brown OBE, E: penny@laylands.co.uk, T: 01329 841814
Notes to Editor
Blind Veterans UK
Blind Veterans UK is a national charity that believes that no-one who has served our country should have to battle blindness alone. Founded in 1915, the charity provides blind and vision impaired ex-Service men and women with lifelong support including welfare support, rehabilitation, training, residential and respite care.
Find out more at: blindveterans.org.uk, follow us on Facebook at: facebook.com/blindveteransuk and on Twitter at: twitter.com/blindveterans.
Notes for editors.
Go to bakingblind.com for details of Penny's background, her cooking videos and recipes.
Her 90 second video pitch for the Holman Prize is at https://www.youtube.com/watch?v=26G_kenQFQ4
Go to disabilitydynamics.co.uk for details of her disability employment activities.
Wikipedia has a good audio interview with Jason Roberts and James Holman.