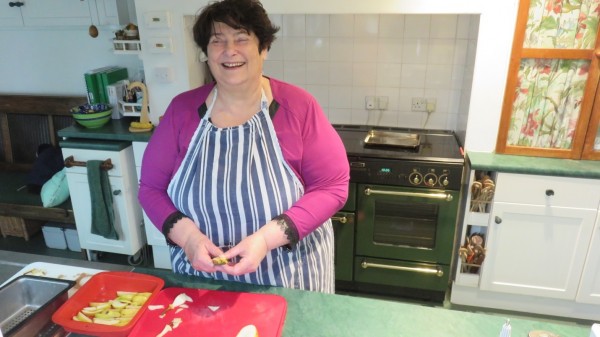 A blind veteran from Fareham, who won inaugural Holman Prize, is set to take her baking project, Baking Blind, on a global tour across six continents.
Penny Melville-Brown OBE, who receives support from Blind Veterans UK, the national charity for blind and vision-impaired ex-Service men and women, was selected as one of the three winners and won $25,000. She says: "This is an extraordinary once-in-a-lifetime opportunity to combine my love of cooking and travel. I'll be a standard bearer for blind people, demonstrating that blindness isn't a bar to ambition.
"With the help of a new network of contacts, across a number of different countries, we've put together an amazingly exciting programme of cooking opportunities with professional chefs, home-cooks, military trainees and, most importantly, other blind people.
"Everywhere I go, I'll be learning new recipes, fresh techniques and unusual ingredients. I'll be sharing all the experiences through my YouTube channel and website, Baking Blind."
Indeed through documenting her experiences, Penny is hopeful of reaching even wider audiences with her positive take on living with a disability.  She will be drawing on her personal experience, nearly two decades' worth of helping other disabled people back to work.
The competition commemorates James Holman who, like Penny, lost his sight while serving in the Royal Navy. Despite this, he went on to travel the globe solo in the early 19th century, as celebrated in 'A Sense of the World', a biography written about his achievements.
Penny says: "It's difficult to imagine how he managed without all the technology and equipment that makes life possible with blindness nowadays. But I hope that our shared military backgrounds give me some of his courage and character. His early years in the Navy were spent just a few miles from where I live and there are almost certainly some landmarks he would have recognised in Portsmouth Naval Base where I often worked.
"This year adds another dimension: it is the centenary of the Women's Royal Naval Service, so I've already been sharing Navy memories and Baking Blind ideas through the WRNS 100 Facebook page."
Penny has contributed tales of her Service career to a book chronicling the history of women in the Navy: the first woman to come top of the Lieutenants' Greenwich Course and the first woman naval barrister. After leaving the Royal Navy, she set up Disability Dynamics delivering projects helping other people with disabilities to start their own businesses. In 2009 she was awarded an OBE for her services to disabled and other disadvantaged people.
ENDS
For all media enquiries please contact: Penny Melville-Brown OBE, E: penny@laylands.co.uk, T: 01329 841814
Notes to Editor
Blind Veterans UK
Blind Veterans UK is a national charity that believes that no-one who has served our country should have to battle blindness alone. Founded in 1915, the charity provides blind and vision impaired ex-Service men and women with lifelong support including welfare support, rehabilitation, training, residential and respite care.
Find out more at: blindveterans.org.uk, follow us on Facebook at: facebook.com/blindveteransuk and on Twitter at: twitter.com/blindveterans.
For more information on Penny
Go to bakingblind.com for details of Penny's background, her cooking videos and recipes.
Her 90 second video pitch for the Holman Prize is at https://www.youtube.com/watch?v=26G_kenQFQ4
Go to disabilitydynamics.co.uk for details of her disability employment activities.
Wikipedia has a good audio interview with Jason Roberts and James Holman.
About LightHouse for the Blind and Visually Impaired
Founded in 1902, San Francisco's LightHouse for the Blind and Visually Impaired promotes the independence, equality and self-reliance of people who are blind or have low vision. LightHouse offers blindness skills training and relevant services such as access to employment, education, government, information, recreation, transportation and the environment. LightHouse also pursues the development of new technology, encourages