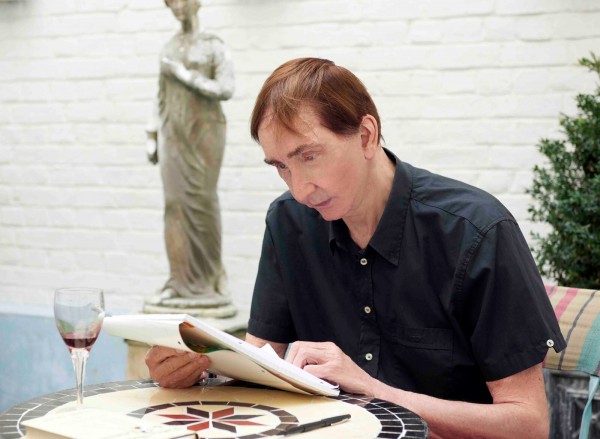 A blind veteran from London has released his own book, entitled Wisdom & Wordplay, which has today become a best-seller.
Robert Eddison has written a book of 300 original one-line aphorisms, covering around 150 subjects, ranging from food to political correctness. Alongside a long career as a highly-respected journalist and playwright, Robert has recorded every original thought he has had since June 1997.
He says: "I'm very excited about the publication of Wisdom & Wordplay. It's another red letter day in my varied life, but it's all constellating around one area – writing. You've got the journalism; you've got the public speaking; you've got the playwriting and now you've got the book!
"I have Anna Brownlie and the training staff at Blind Veterans UK to thank for enabling me to upgrade my writing to a completely different level."
Robert's career began with a degree in Modern Languages and Law from Cambridge. After cutting his teeth in the Cambridge Union debating society, he followed a university lectureship with a lecture tour of America in his mid-twenties, before taking up a junior consultancy post at the Foreign Office.
Robert eventually settled for a career in freelance journalism, covering an awesome range of topics for both broadsheets and red-top tabloids.
What kick-started his Fleet Street career was a major interview with the late Margaret Thatcher for the London Times, in the year (1978) before she became prime minister and when Robert was still working as a humble reporter on local papers.
As he had broken his arm the previous day, falling off a bus, the interview had to be recorded. Despite having only been allocated half-an-hour for the interview, it ended up lasting a full seventy five minutes! "That one interview," declared Robert, "not only opened all doors to my future career, but it oiled the hinges as well. Around that time I was also doing a good deal of public speaking on – of all subjects – Europe. What goes around…Sorry!"
After being unofficially adopted by both the Daily Express and the old London Evening News, Robert was somewhat miffed when he spotted not one, but two of his colour features in the same edition of the Evening News, with one of them – his favourite- under a different name. "Oh, that's just one of our house names," explained the then features editor, "We don't want to give the impression that we're short of good journalists," Said Robert, "No compliment comes more backhanded than that."
Robert later tried his hand at playwriting, with his first produced stage play, Commanding Voices, enjoying a five-week run in Hampstead in 2002 and receiving golden reviews. In fact the celebrated actor, Sir Ian McKellen, emailed Robert in the summer to say that Commanding Voices was due for revival. With the play's young protagonist, Ben, suffering from obsessive compulsive disorder (OCD), the play could hardly be more topical.
Commanding Voices proved to be the beginning of Robert's aphorisms. He explains: "On re-reading the play, I discovered there were four one-liners, each of which happened to be a one-off aphorism.
"That was the start of my coining original aphorisms as a hobby, something which has grown over the years to the point where I now post two original maxims a day on Instagram and thirty a day on Twitter – perfect for our soundbite culture."
According to the dictionary, an aphorism is "a witty, pithy observation which contains a general truth." "Oscar Wilde," Robert reminds us, "was, of course, famous for his cutting-edge insights and I share his love of them. Whereas a novelist might get a 'Eureka' moment from writing 500 words a day, I get mine from every single line I write. It's massively fulfilling and the beauty of it is that you can jot them down wherever you happen to be."
Robert served as an Intelligence Officer during his National Service in the Royal Air Force and is one of the new intake of blind veterans who never saw war service. He sadly suffers from myopic macular degeneration and says: "I only joined the charity in 2007, but my eyesight had been an issue for some 25 years before that.
"Although I only have 6/60 vision in my good eye, it doesn't stop me doing everything I want to do. After the usual adjustment period, you just forget about it. If you can't see faces, go by what people are wearing. I just haven't the time to be blind. All we have to do is to bottle a little of that Dunkirk spirit and just get on with it.
"At first, given that my sight loss was not a result of my Service, I didn't think I'd be eligible to join the charity. But fortunately my sister, a former social worker, digs rather deeper than I do in such matters and insisted I made the necessary enquiries, which eventually led to my joining this forward-looking charity.
"I've since discovered that the level of IT training offered by Blind Veterans UK is extraordinarily high. After my induction week at the charity's training and rehabilitation centre in Brighton, I was privileged to be given countless IT training courses and the lifelong loan of all the equipment I needed to come from scratch, to the point where I could now teach it myself! No, Anna, that does not constitute an offer!
"Hardly a day goes by that I don't thank my sister, Deirdre, and Blind Veterans UK for this wonderful outcome. Yes, my writing is now at an even higher level than before. But I also write much more fluently and almost as fast as I think and without notes. Indeed, stream-of-consciousness comes to mind here.
"This transformative change led to my being nominated student of the year, but I was pipped to the post by a veteran in his nineties who was typing his autobiography. In my lunchtime speech at the RAF Club in Piccadilly, I said that the award could not have gone to a more deserving candidate."
To borrow one of Robert's own aphorisms, "We only regret the mistakes that we did not turn into blessings."
Wisdom & Wordplay is out on Wednesday, October 25 and is available to buy from Amazon. You can read more about Robert on his website: roberteddison.com
Blind Veterans UK was founded in 1915 and the charity's initial purpose was to help and support soldiers blinded in the First World War. But the organisation has gone on to support more than 35,000 blind veterans and their families, spanning WWII to recent conflicts including Iraq and Afghanistan. They have set the ambitious target to double the number of veterans receiving its life-changing support by 2022.
For more than a century, the charity has been providing vital free training, rehabilitation, equipment and emotional support to blind and vision-impaired veterans, no matter when they served or how they lost their sight. Visit blindveterans.org.uk/support to learn more about the charity and how you can support its vital work today.
For all media enquiries please contact: Felix Arbenz-Caines, PR Assistant, Blind Veterans UK, 12 – 14 Harcourt Street, London W1H 4HD, E: Felix.Arbenz-Caines@blindveterans.org.uk, T: 020 7616 7941
Notes to Editor
Blind Veterans UK
Blind Veterans UK is a national charity that believes that no-one who has served our country should have to battle blindness alone. Founded in 1915, the charity provides blind and vision-impaired ex-service men and women with lifelong support, including welfare support, rehabilitation, training, residential and respite care.
Find out more at: blindveterans.org.uk, follow us on Facebook at: facebook.com/blindveteransuk and on Twitter at: twitter.com/blindveterans.