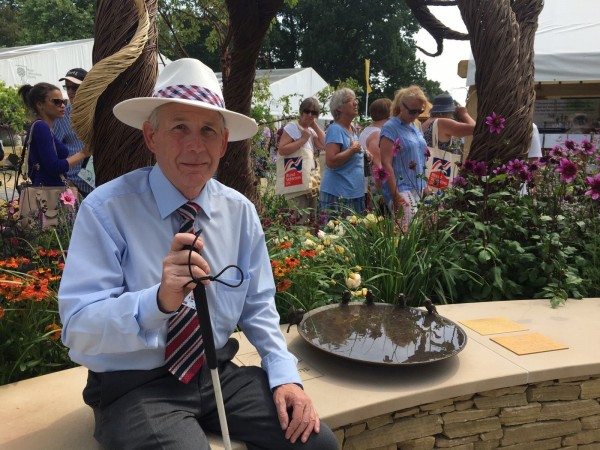 A blind veteran from Norwich who receives vital support from Blind Veterans UK, the national charity for vision-impaired ex-Service men and women, visited the charity's show garden at the prestigious RHS Hampton Court Palace Flower Show last week.
Chris Humphrey, 65 and from Thorpe End, volunteered as an ambassador for Blind Veterans UK and encouraged anyone who could receive support from the charity to get in touch.
After joining the Royal Navy in 1967, Chris was first employed as a Junior Radio Operator on HMS Raleigh. He says: "I completed my initial training on HMS Raleigh, before completing my Branch Training on HMS Mercury.
"I then served on a number of ships, including HMS Cambrian, Tartar, Charybdis and the Antrim. I also served on a number of shore establishments including HMS Heron and Nelson."
Overall, Chris' 11 years' Service saw him travel as far as the Middle East, the Far East and the West Indies. He explains: "I went everywhere in the world, really, apart from Australia. We were actually meant to go there but our ship ended up catching fire! In the end we had to turn back to Singapore."
Unfortunately for Chris, he suffers from Pseudoxanthoma elasticum, a genetic disorder that affects not only your sight, but the arteries in the rest of your body. He explains: "In a way, I'm lucky that my condition is confined to my sight, as it could've been a lot more serious.
"I still have some peripheral vision in my right eye, but the vision in my left is very distorted."
On how he came to hear about Blind Veterans UK, Chris explains: "I always saw collection pots for the charity in the Navy, Army and Air Force Institutes, but I always assumed that only war-blinded veterans were eligible for their support. Luckily, my Social Services explained that I was entitled to it too.
"Right from day one the charity has made a huge impact on my life. I was taught how to use a computer with speech software. This was really important for as it allowed me to continue working."
For Chris, gardening entered his life in earnest as a result of him losing his sight. Despite the challenges posed by his vision-impairment, he's still able to navigate his way round the garden using, amongst other things, equipment and his other senses. He explains: "I use a special rope with knots to measure and feel things like planting distances. It's amazing, really, just how much can be done with feel. I've also got a special adaptive watering can which doesn't release the water until you press a certain button."
"Even if I didn't know my garden, I could still find my way by smell. Mock orange is really rather pungent right now!"
Chris volunteered at the Blind Veterans UK 'It's all about community' garden at the RHS Hampton Court Palace Flower Show with other blind veterans supported by the charity.
The garden was designed by celebrated designers Andrew Fisher Tomlin & Dan Bowyer and was one of the largest show gardens at Hampton Court this year. Not only was it one of only three gardens to receive a prestigious gold medal, but it also won the Best Construction Award.
Blind Veterans UK supports veterans regardless of when they served or how they lost their sight. The Blind Veterans UK community has grown and the charity now supports more than 4,500 veterans, more than ever before in its history.
However, the charity estimates that there are up to 55,000 blind veterans that would be eligible to access its specialist support but are not currently aware of it.
Chief Executive of Blind Veterans UK, Major General (Rtd) Nick Caplin CB, said: "The garden, at the prestigious RHS Hampton Court Palace Flower Show, was a fantastic opportunity to reach out to the thousands of blind veterans out there who don't know they're entitled to our support.
"Blind Veterans UK has set an ambitious target to double the number of veterans we support in the next five years. This garden represents the community of blind veterans that we hope to grow. As the average age of the veterans we support is rising, we have now extended our services to provide more practical and emotional support closer to our beneficiary's own communities.
"If you, or someone you know, served in the Armed Forces, including National Service, and is now battling severe sight loss then please do get in touch with us."
Chris adds: "I really can't recommend the charity enough and would heartily encourage anyone to get in touch. Even if they think they can cope fine now, it's about making sure you're prepared for the future. It's so much easier to adjust to severe sight loss if you start early.
"Whenever I've needed something, or wanted to know anything, there's always someone I can ring for help. Blind Veterans UK has showed me that other people with far less sight than me can lead normal and happy lives. That really gave me confidence and I'm sure it can do the same for others."
Blind Veterans UK was founded in 1915 and the charity's initial purpose was to help and support soldiers blinded in the First World War. But the organisation has gone on to support more than 35,000 blind veterans and their families, spanning WWII to recent conflicts including Iraq and Afghanistan.
For more than a century, the charity has been providing vital free training, rehabilitation, equipment and emotional support to blind and vision-impaired veterans no matter when they served or how they lost their sight. If you, or someone you know, served in the Armed Forces, including National Service, and is now battling severe sight loss, find out how Blind Veterans UK could help by calling 0800 389 7979 or visiting blindveterans.org.uk/noonealone.
For all media enquiries please contact: Felix Arbenz-Caines, PR Assistant, Blind Veterans UK, 12 – 14 Harcourt Street, London, W1H 4HD, E: felix.arbenz-caines@blindveterans.org.uk, T: 020 7616 7941
Notes to Editor
Blind Veterans UK
Blind Veterans UK is a national charity that believes that no-one who has served our country should have to battle blindness alone. Founded in 1915, the charity provides blind and vision impaired ex-Service men and women with lifelong support including welfare support, rehabilitation, training, residential and respite care.
Find out more at: blindveterans.org.uk, follow us on Facebook at: facebook.com/blindveteransuk and on Twitter at: twitter.com/blindveterans.