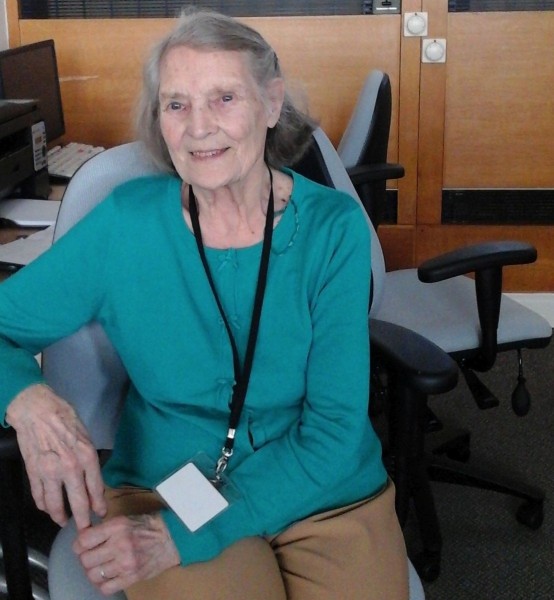 A Poulton-le-Fylde blind veteran who has received vital support from Blind Veterans UK can now keep in contact with her relatives abroad thanks to IT training from the charity.
Marjorie Hanson, 94, now regularly Skypes her grandson in America and her nephew in Canada, a skill she developed during a week's stay at the Blind Veterans UK centre in Brighton. Marjorie first took IT training with the charity last year, and has since benefited from regular IT support, respite stays at the charity's centres in Llandudno and Brighton, and the companionship of fellow beneficiaries.
Marjorie joined the Auxiliary Territorial Service (ATS) in 1941 and was stationed in Didcot, where she worked as a filing clerk until 1945.
Marjorie says: "It was a period I look back on with very fond memories. I met my husband and some of my lifelong friends in the Armed Forces. One of the girls I worked with in the ATS moved out to America and I went out to visit her nearly 40 years after we first met. Despite the time that had passed, we laughed and joked as if we were 18 again!"
Marjorie has received help and support from Blind Veterans UK since 2014.  Marjorie has choroidal neovascular membrane and high myopia, and although she maintains a very can-do attitude to her sight loss, it has had an impact on her daily life.
Blind Veterans UK gave Marjorie special equipment including a magnifier to enlarge texts, an LED lamp and a tablet to help her keep in touch with family and friends.
"I went to an introduction week in Brighton and had the most wonderful time meeting other blind veterans who are all in the same boat as me. I took an IT course and when it was time to go home I left my tablet on the front desk because I assumed it had only be loaned to me for training purposes. When the receptionist explained it was mine to keep I was over the moon!"
On how she came to hear about Blind Veterans UK, Marjorie explains: "I had heard of the charity but I always assumed that only war-blinded veterans were entitled to support. Luckily my Social Services informed me that I was also eligible and suggested I call the free phone number for more information."
Marjorie says: "The support from Blind Veterans UK has really given me a new lease of life. Even my grandson is impressed at how well I can navigate my tablet."
Marjorie is already planning her next stay at the Blind Veterans UK centre in Llandudno this October, where she will meet up with two friends she has met through the charity and celebrate Halloween.
Blind Veterans UK is the national charity for blind and vision-impaired ex-Service men and women, providing vital practical and emotional support to help veterans discover life beyond sight loss.
The charity estimates that there are currently 1066 blind veterans in Lancashire that would be eligible to access its specialist support, most of whom are not currently aware of it.
If you, or someone you know, served in the Armed Forces or did National Service and is now battling severe sight loss, find out how Blind Veterans UK could help by calling 0800 389 7979 or visiting www.noonealone.org.uk.
ENDS
For all media enquiries please contact: Ruth Moore, Communications and Marketing Assistant, Blind Veterans UK, 12 – 14 Harcourt Street, London, W1H 4HD, E: ruth.moore@blindveterans.org.uk, T: 020 7616 7955
Notes to Editor
Blind Veterans UK
Blind Veterans UK (formerly St Dunstan's) is a national charity that believes that no-one who has served our country should have to battle blindness alone. It provides blind and vision impaired ex-Service men and women with lifelong support including welfare support, rehabilitation, training, residential and respite care.
The charity needs £100 million over 5 years to provide lifelong support to blind ex-Service men and women. Find out more at: www.blindveterans.org.uk, and follow us on Facebook at: facebook.com/blindveteransuk and on Twitter at: twitter.com/blindveterans.