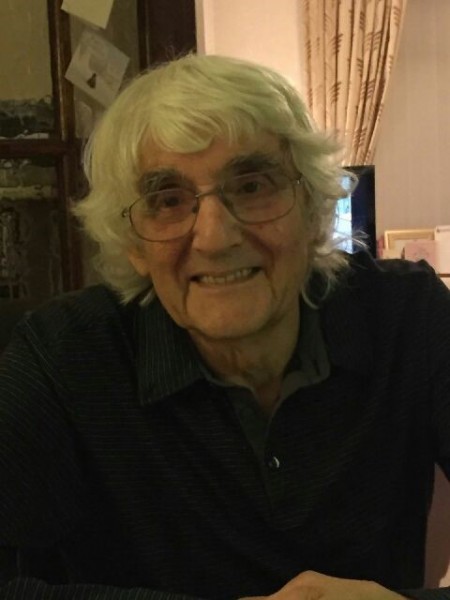 A Second World War blind veteran from Staffordshire has been awarded the Chevalier de l'Ordre National de la Legion d'Honneur for his part in the liberation of France.
Rowland Edwards, 93 and from Stafford, will be formally presented with the prestigious honour by Monsieur Jean-Claude Lafontaine from the French Consulate in a special ceremony at the National Arboretum in Alrewas, Staffordshire. The ceremony, which was organised by military charity Blind Veterans UK, will be attended by Rowland's family as well as representatives from the charity.
Rowland says: "I feel incredibly humbled to be appointed rank of Chevalier de l'Ordre National de la Legion d'Honneur. I'd particularly like to extend my thanks to the President of the French Republic."
Rowland, who served with the 29th Armoured Brigade HQ 11th Armoured Division, remains humble about the part he played in the liberation of an entire nation, and is instead deeply thankful that he was able to survive the war with his physical health intact. He says: "I still don't feel like I did anything special; it was just part of the job. In truth, I was just grateful to survive when so many people didn't. That being said, I've been able to reflect on everything since I found out I was to be awarded the medal, and I do feel extremely proud to have shaped the history of Europe. I'm honoured that people consider this something special; it'll remain a source of pride for the rest of my life."
Rowland arrived at Juno Beach on D Day +6 aged just twenty years old. Tasked with operating a tank across the beach towards Cully, his role as tank operator meant he was responsible for focusing on the route ahead. As they drove in pursuit of their primary objective – capturing Hill 112 – the severity and extent of the atrocities around them led to his tank driver suffering a breakdown, resulting in Rowland's unexpected and sudden elevation to the role of lead driver.
Despite the horrors and sombre recollections Rowland has, he regards his time in the army as an important part of his life, and therefore one he wouldn't change. He says: "I was very glad it was over; staying up all night waiting to be attacked by the Germans was a terrifying experience. I wouldn't have missed it, though. There was a fantastic camaraderie and I got to learn about so many different things, including photography and poetry."
Rowland, who suffers from age related macular degeneration and glaucoma, counts the backing he's received from Blind Veterans UK as crucial to his receiving the prestigious award. He says "If it wasn't for Blind Veterans UK, I'd have never considered applying for this honour. I'm extremely grateful for their support."
Aside from the Legion d'Honneur, Rowland has been able to regain a degree of independence in his life as he has adjusted to sight loss, thanks to the charity's extensive range of services. He says: "One of the most valuable donations I've received from the charity has been a reading machine. I'm now able to enjoy poetry again, as well as read some of my own post! It's not just the gifts, either, it's the visits, the phone calls and the general level of support that I'm able to receive."
Blind Veterans UK was founded in 1915 and the charity's initial purpose was to help and support soldiers blinded in the First World War. But the organisation has gone on to support more than 35,000 blind veterans and their families, spanning the Second World War to recent conflicts including Iraq and Afghanistan.
For more than a century, the charity has been providing vital free training, rehabilitation, equipment and emotional support to blind and vision-impaired veterans no matter when they served or how they lost their sight.
Visit blindveterans.org.uk/support to learn more about the charity and how you can support its vital work today.
For all media enquiries please contact: Felix Arbenz-Caines, PR Assistant, Blind Veterans UK, 12 – 14 Harcourt Street, London, W1H 4HD, E: Felix.Arbenz-Caines@blindveterans.org.uk, T: 020 7616 7941
Notes to Editor
Blind Veterans UK
Blind Veterans UK (formerly St Dunstan's) is a national charity that believes that no-one who has served our country should have to battle blindness alone. It provides blind and vision impaired ex-Service men and women with lifelong support including welfare support, rehabilitation, training, residential and respite care.
The charity needs £100 million over 5 years to provide lifelong support to blind ex-Service men and women. Find out more at: www.blindveterans.org.uk, and follow us on Facebook at: www.facebook.com/blindveteransuk and on Twitter at: twitter.com/blindveterans