The only choir in the world made up exclusively of blind veterans is set to mark King Charles III's Coronation with a special performance in Colchester.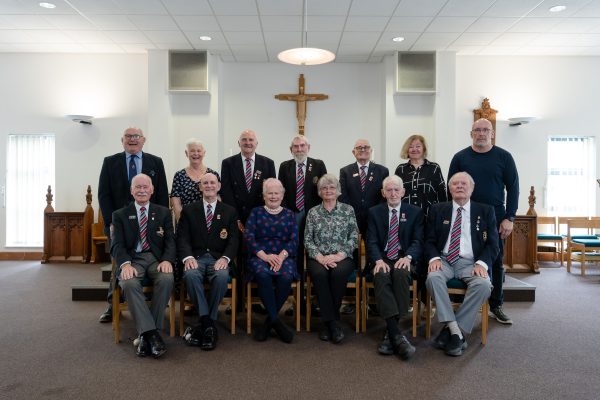 The choir, Vision in Song, is made up exclusively of ex-Servicemen who are blind or severely sight impaired. They range in age from 81 to 87-years-old and hail from a variety of communities in and around Essex including Leigh-on-Sea, Billericay, Colchester, Walton-on-the-Naze, Weeley and Clare.
The choir members represent all three branches of the British Armed forces: Army, Navy and RAF and perform an assortment of numbers from war-time classics to patriotic anthems and jazz hits.
The performance will take place at Church of England Sailors', Soldiers' & Airmen's Club Café in Colchester on Thursday 18 May at 1:30pm.
On this special occasion the group will be putting on a themed performance with each song having a link to the King. They will be joined by two members of Age Well East who are also veterans.
The event is set to be a community affair with other local groups such as The Parachute Regimental Association, Colchester Council, Health Watch Essex, Colchester Blind Club and SSAFA in attendance.
Neil Hildred, Blind Veterans UK's Community Support Worker who organised the event, says:
"This is a massive occasion in our shared history, and we thought it was only right to do something special to commemorate it. We put on a big performance for the Queen's Jubilee last year so we're really looking forward to this one."
Ron Binnie, 90-years-old and from Billericay, is one of the members of Vision in Song. He says:
"The choir is a lovely outlet for me as I live by myself so it really helps with the isolation. I have a very lonely life but I love getting together with the choir. We're all ex-military and share our war stories together.

"I'm old enough to have been around for the last coronation and still have my commemorative mug. It's a special moment for the country and I'm really looking forward to performing at the tea party. All the songs we sing will have a link to the King to mark this notable occasion."
Ron completed his National Service with the Army between 1952 and 1954. It was later in life at the age of 87 that he started to lose his sight to macular degeneration which has been in steady decline ever since. He now has no vision in one eye and only 5% left in the other.
Lieutenant colonel Ed Rankin, Colchester Garrison Commander, says:
"Colchester Garrison is delighted to welcome back the Blind Veterans UK choir and to celebrate with them in our community centre for the occasion of the Coronation of Their majesties King Charles III and Queen Camilla.

"It is especially significant for the military community to come together with the Blind Veterans UK choir, as they continue to inspire the next generation and we are proud to mark this special occasion with them."

Jennie Hammond, the Community Support Worker who helped form the choir, says: "The choir's rehearsals have really brought the group together and provided companionship which is so crucial in combating the isolation that is so often felt in older people, particularly if they have a disability like sight loss."
Colin Humphreys, 83 and from Colchester, is another of the choir members. He says:
"Being in the choir has become such an important part of my life. The feeling of belonging to a group in old age is very important to us. We all have each other's phone numbers and regularly keep in touch between rehearsals."
Colin entered the military in 1958 and served as an armoured vehicles mechanic with the Royal Electrical and Mechanical Engineers in Germany. It was later in life that macular degeneration stole Colin's sight which has been in steady decline ever since.
In 2019 the group released their debut EP, 'Sing as we go', on Spotify and Apple Music.
Blind Veterans UK supports thousands of blind veterans across the country, but the charity knows there are many thousands more who still need its support to rebuild their lives after sight loss.
If you, or someone you know, served in the Armed Forces, including National Service, and are now struggling with sight loss, then please get in touch. Call 0800 389 7979 or visit blindveterans.org.uk/support