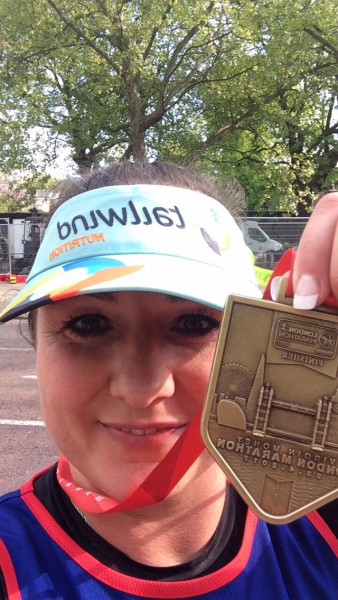 A woman from Salisbury has finished the London Marathon for Blind Veterans UK, the national charity for blind and vision-impaired ex-Service men and women.
Marie Manning, 38 and originally from Llanfairfechan, Wales, completed the world famous course in six hours and 37 minutes. She says: "It was the toughest yet most rewarding thing I've ever done in my life. It felt amazing having people shout in support of the charity and helped me remember that I was doing some good while putting my body through all that pain!"
Despite the physical exhaustion, Marie is feeling motivated to continue her fundraising endeavours. She says: "It's actually inspired me to run further races and try to raise more money for the Blind Veterans UK!"
Marie ran on behalf of the charity which has supported her Grandfather, Hywel Williams, since last May. She says: "He's a blind veteran himself and lives in North Wales, and as a result has received so much support from the charity's Llandudno Centre. They've basically given him another life. Without them, he'd be so restricted in terms of where he could go."
Marie won her place to compete in this year's London Marathon in the ballot and says that the decision as to who she would raise money for did not take long. She says: "I wanted to do something that truly meant something to me and my whole family. They've given him so much – his stick, audio news devices; so the decision to run on behalf of Blind Veterans UK was an easy one."
Marie's appreciation for the men and women who serve our country also stems from her husband's own military career, himself having been in the Army Air Corps as a WO2 helicopter pilot for 26 years. In fact, it was thanks to her husband that Marie signed up for the 26-mile challenge in the first place. She says: "He's been trying to get a place for years. I've just been dabbling, having done the Bath Half Marathon and a few other smaller events. So when he went to enter for this one, I did so mainly to get a training top! Eventually I got a place but he didn't, so I didn't really have much of a choice at that point!"
To support Marie, please visit: justgiving.com/fundraising/Marie-Manning1.
Blind Veterans UK was founded in 1915 and the charity's initial purpose was to help and support soldiers blinded in WWI. But the organisation has gone on to support more than 35,000 blind veterans and their families, spanning WWII to recent conflicts including Iraq and Afghanistan.
For more than a century, the charity has been providing vital free training, rehabilitation, equipment and emotional support to blind and vision-impaired veterans no matter when they served or how they lost their sight. Visit blindveterans.org.uk/support to learn more about the charity and how you can support its vital work today.
For all media enquiries please contact: Felix Arbenz-Caines, PR Assistant, Blind Veterans UK, 12 – 14 Harcourt Street, London, W1H 4HD, E: Felix.Arbenz-Caines@blindveterans.org.uk, T: 020 7616 7941
Notes to Editor
Blind Veterans UK
Blind Veterans UK is a national charity that believes that no-one who has served our country should have to battle blindness alone. Founded in 1915, the charity provides blind and vision impaired ex-Service men and women with lifelong support including welfare support, rehabilitation, training, residential and respite care.
Find out more at: blindveterans.org.uk, follow us on Facebook at: facebook.com/blindveteransuk and on Twitter at: twitter.com/blindveterans.