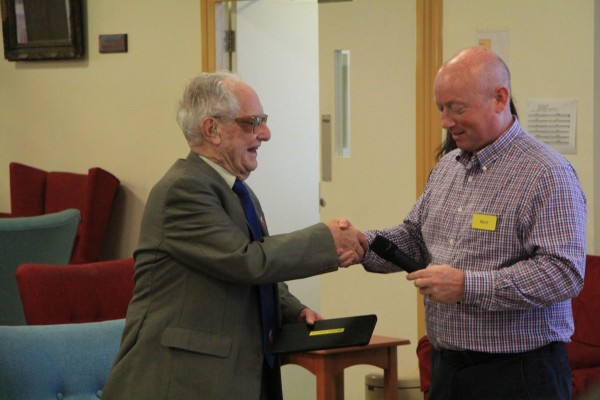 Blind Veterans UK, the national charity for blind and vision-impaired ex-Service men and women, has issued its 1000th Synapptic device, a tablet with award-winning all-in-one software for people who are blind or vision-impaired.
Michael Ashman, 88 and from Surrey, received the device, a tablet, while attending the charity's training and rehabilitation centre in Brighton. In doing so, he became the 1000th blind veteran that the charity has provided a device with.
Michael, who served in The Royal Army Educational Corps, says: "I must say that, so far, I'm very impressed with the Synapptic device.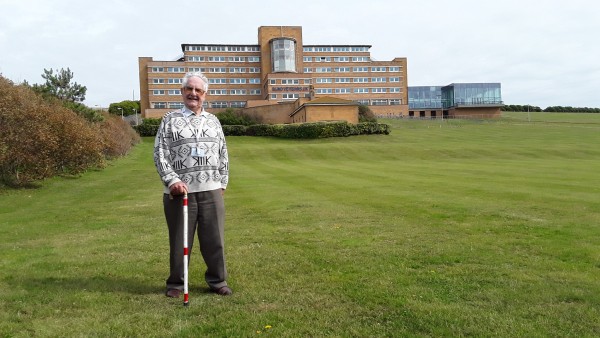 "I'm looking forward to being able to do all the ordinary things with it, such as writing letters. I'm one of those people who doesn't like writing emails, so this for me will be very important! I'm also hoping to get back into reading books with it.
Michael's sight began to deteriorate about 15 years ago, and he describes the vision he has left as very poor. He says that the support from the charity has been fantastic and has enabled him to gain a degree of independence in his life that he previously thought unobtainable. He explains: "Blind Veterans UK has been absolutely marvellous. It's done so many things, but first and foremost are the holidays at its Brighton and Llandudno centres. The staff are always fantastic too, we're so well looked after."
The Synapptic devices have long provided blind and vision-impaired ex-Service men and women with the ability to use their devices for basic IT and computing purposes. The device's inbuilt speech functionality has meant that for 1000 of the vision-impaired veterans that Blind Veterans UK supports, simple tasks such as emailing and reconnecting with friends and family need no longer be an issue.
The impact that the Snyppatic devices have had and will continue to have on ex-Service men and women suffering sight loss is profound. The team behind Synapptic are aware of just how important their work is in achieving technological solutions in the face of sight loss. Mary McMahon, Managing Director of Synapptic, says: "At Synapptic, we make it our mission to encourage people with sight loss to embrace technology in order to make their lives easier. We believe that by designing products that are both intuitive yet simple to use, anyone can enjoy all the great benefits of technology, irrespective of their knowledge or experience.
"To think that there have now been 1000 blind veterans using Synapptic software to lead more independent and connected lives is nothing short of incredible. We hope that blind veterans will continue to embrace all the befits of Synapptic products and develop the confidence to send emails, write texts, read their own letters and enjoy all the other tasks that they never before thought possible.
"Why set limits for yourself when technology opens up so many possibilities for independence and communication?"
Blind Veterans UK was founded in 1915 and the charity's initial purpose was to help and support soldiers blinded in the First World War. But the organisation has gone on to support more than 35,000 blind veterans and their families, spanning WWII to recent conflicts including Iraq and Afghanistan.
Blind Veterans UK currently supports over 4,500 veterans, more than ever before in the charity's history. They have set the ambitious target to double the number of veterans receiving its life changing support by 2022.
For more than a century, the charity has been providing vital free training, rehabilitation, equipment and emotional support to blind and vision-impaired veterans no matter when they served or how they lost their sight. Visit blindveterans.org.uk/support to learn more about the charity and how you can support its vital work today.
More images available on request.
For all media enquiries please contact: Felix Arbenz-Caines, PR Assistant, Blind Veterans UK, 12 – 14 Harcourt Street, London W1H 4HD, E: felix.arbenz-caines@blindveterans.org.uk, T: 020 7616 7941
Notes to Editor
Blind Veterans UK
Blind Veterans UK is a national charity that believes that no-one who has served our country should have to battle blindness alone. Founded in 1915, the charity provides blind and vision impaired ex-Service men and women with lifelong support including welfare support, rehabilitation, training, residential and respite care.
Find out more at: blindveterans.org.uk, follow us on Facebook at: facebook.com/blindveteransuk and on Twitter at: twitter.com/blindveterans.