Sight loss charity Blind Veterans UK has today (23/03) announced a new service to allow them to continue to support blind veterans throughout the Coronavirus (COVID-19) outbreak.
This National Support Service will see the charity adapt how it supports its 5,000 beneficiaries, many of which are amongst those most at risk from the virus.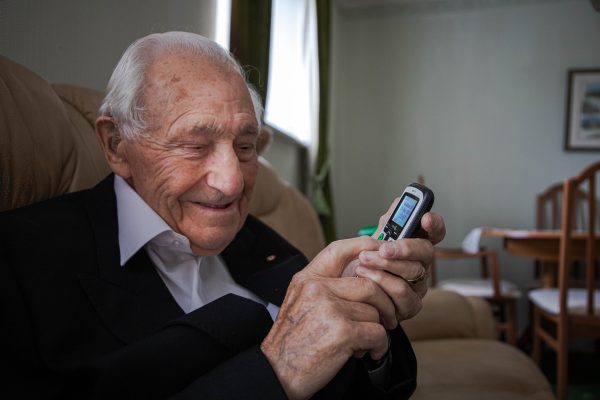 More than 90% of Blind Veterans UK beneficiaries are over 70 years old and subsequently being advised by the Government to self-isolate. This new temporary service will help blind veterans through this upcoming period of social isolation.
Nicky Shaw, Blind Veterans UK Director of Operations said:
"Many of the blind veterans we serve are amongst those most at risk from the Coronavirus (COVID-19) and of course they have the additional challenge of vision impairment. As a result of this, our immediate priorities have changed.

"Having to self isolate, blind veterans need our help right now with daily tasks, such as the shopping, and constant emotional support through this difficult time. So we are temporarily changing our service and mobilising our staff to provide practical, essential support to help the most vulnerable.

"We're working with local communities, other charities and Local Authorities in order to reach as many people as we can and provide a coordinated, efficient response."
Due to the social distancing restrictions currently in place the National Support Service will be primarily an outreach service on the telephone as well as a practical support service to blind veterans.
Nicky added:
"One of the most important things we can do is keep in touch with all our blind veterans by phone but we will also use those calls to identify those with the greatest need.
 
"Our immediate concerns are to work quickly to help those who are most vulnerable- whether they need food delivered, medication from their pharmacy or a friendly voice over the phone. We are putting on hold our routine work with blind veterans until we are through this crisis so all staff can have an impact on the frontline where it is needed most.
 
"Regardless of role, all Blind Veterans UK staff, whether they be catering, administrators or fundraising staff, will play their part to make this new service work."
The National Support Service announcement follows previous decisions made by Blind Veterans UK in order to best protect the veterans they support. Two weeks ago the charity took the decision to close its two training and rehabilitation centres in Brighton and Llandudno to all except the permanent residents at the Brighton centre.
Nicky Shaw added:
"There is so much that we can and must do to support blind veterans to help them maintain physical and emotional wellbeing, and to feel safe, reassured and cared for during this crisis."
You can keep updated on Blind Veterans UK's response to Coronavirus (COVID-19) at blindveterans.org.uk/coronavirus where you can also find out more about supporting the charity to make this new service possible.
Blind Veterans UK
Blind Veterans UK helps vision-impaired ex-Service men and women of every generation rebuild their lives after sight loss. Since 1915 the charity has provided rehabilitation, training, practical advice and emotional support to tens of thousands of blind veterans.Blind Veterans UK currently supports more blind veterans than ever before in the charity's history, but it knows there are many more who still need its support to rebuild their lives following their sight loss.
For all media enquiries please contact:
Mark Wheeler, Senior Communications Manager – 020 7616 7980 / 07894 930352 / mark.wheeler@blindveterans.org.uk