As part of NVCO's National Volunteering Week, Blind Veterans UK were excited to welcome SP Energy Networks back to their training and rehabilitation centre in Llandudno.
A group of employees from the company's Llandudno Junction depo visited the Blind Veterans UK centre to carry out ground maintenance work. The works included laying a new accessible walkway to give access to veterans to a woodland activity cabin. The volunteers were then invited to join in with a D-Day anniversary event.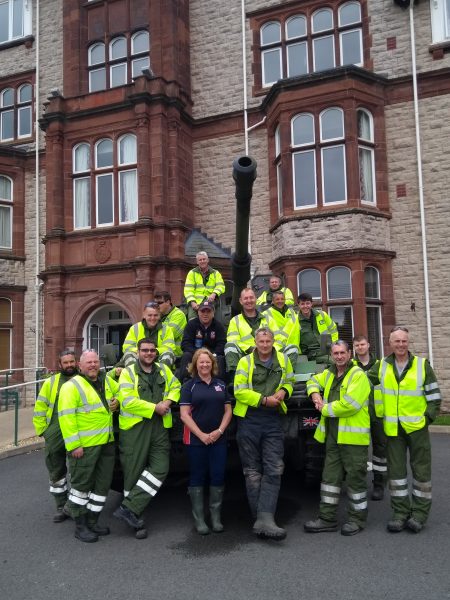 This visit follows on from SP Energy Networks' initial volunteering day in 2015 when the Llandudno Depo helped with the creation of the Woodland Sensory Walk.
Joanna Tann, Volunteering Development Officer, said:
"SP Energy Networks supports in improving access for blind veterans at our centre meaning that they are able to undertake therapeutic activities in our woodland cabin and in the woodland environment independently – it's a fine example of the impact and value of corporate volunteering".
Andy Churchman, District General Manager for North Wales at SP Energy Networks, said:
"SP Energy Networks is dedicated to the community in North Wales and we're proud to support Blind Veterans UK in creating a new accessible walkway at the Llandudno Centre so that veterans can fully enjoy the experience of the woodland activity cabin.

"To commemorate 75th anniversary of the D-Day landings, the team at SP Energy Networks is honoured to have been given the opportunity to contribute to this project and pay tribute to those who have fought to keep us safe."
If you or your company would like to find out more about Volunteering with Blind Veterans UK – both at their centres or within the community – please contact Joanna Tann 01492 864573 / joanna.tann@Blindveterans.org.uk
Notes to Editor
Blind Veterans UK helps vision-impaired ex-Service men and women of every generation rebuild their lives after sight loss. Since 1915, we've provided rehabilitation, training, practical advice and emotional support to tens of thousands of blind veterans.
Find out more at: blindveterans.org.uk and follow us on Facebook at: facebook.com/blindveteransuk and on Twitter at: twitter.com/blindveterans.
For all media enquiries please contact:
Laura Weir, PR & Communications Executive, 020 7616 7955 / laura.weir@blindveterans.org.uk / blindveterans.org.uk