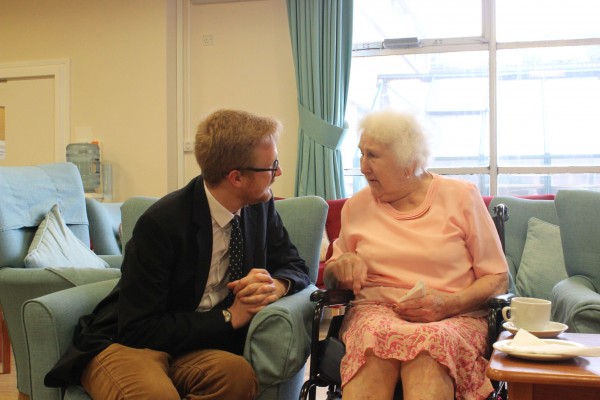 On Friday morning (09/03) blind veterans supported by national military charity Blind Veterans UK were visited by Lloyd Russell-Moyle, MP for Kemptown and Peacehaven, at the charity's centre in Ovingdean.
Lloyd was given a tour of the centre and answered questions about social care, and his continued commitment to supporting local charities, during a Q&A with staff and beneficiaries.
96-year-old RAF veteran Keith Arblaster was one of several blind veterans who spoke with Lloyd during his visit. Keith lost his sight due to age-related macular degeneration and has been supported by Blind Veterans UK since 2007.
Keith has received training and equipment from the charity and became a resident at its Brighton centre four months ago.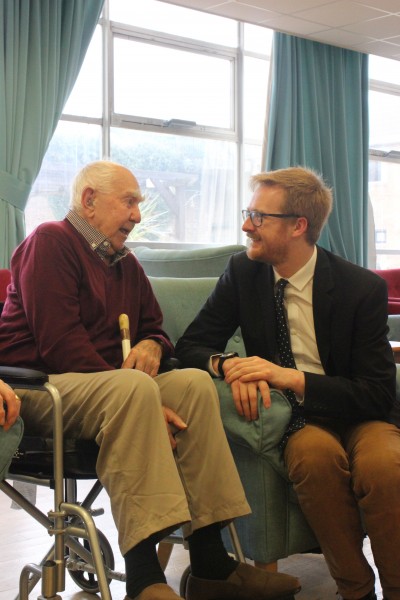 Keith said: "We all really enjoyed meeting Lloyd and asking questions about issues both local and national. Being 96 didn't stop me putting him through his paces!"
Emma Allum, Activities Coordinator at Blind Veterans UK said: "It was great to host Lloyd at the centre. This visit builds on a successful program of political and cultural events and activities which encourage all the ex-Service men and women we support to continue leading active, fulfilling lives despite their sight loss."
Of his trip to the centre on Friday, Lloyd said: "Blind Veterans UK is a much valued organisation in the local community and it was a pleasure to answer so many thought-provoking questions from veterans supported by the charity."
Lloyd first became involved with Blind Veterans UK in September 2017 when he opened an exhibition of artworks created by blind veterans for the waiting room of Sussex Eye Hospital.
In February Lloyd also attended the launch of Veterans Brewing Sussex, a craft brewery owned and run by veterans which has announced Blind Veterans UK as its charity of the year.
Blind Veterans UK is the national charity for blind and vision-impaired ex-Service men and women, providing vital practical and emotional support to help veterans discover life beyond sight loss.
Blind Veterans UK estimates that there are more than 200 ex-Service men and women in Brighton and Hove battling severe sight loss who could be eligible for support but who do not realise it. It doesn't matter when or how a veteran lost their sight, or when they served, Blind Veterans UK can help.
If you, or someone you know, served in the Armed Forces or did National Service and is now battling severe sight loss, find out how Blind Veterans UK could help by calling 0800 389 7979 or visiting blindveterans.org.uk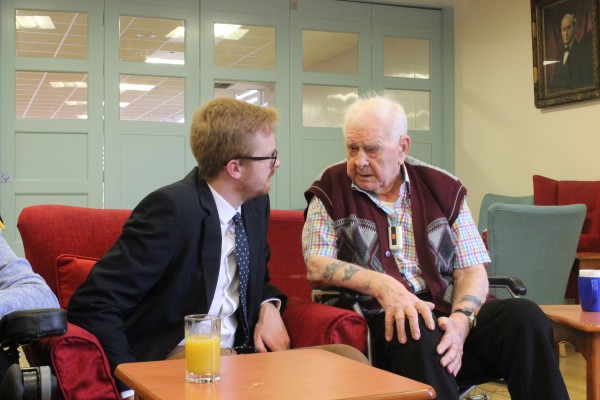 ENDS
For all media enquiries please contact: Ruth Moore, Communications and Marketing Assistant, Blind Veterans UK, 12 – 14 Harcourt Street, London W1H 4HD, E: ruth.moore@blindveterans.org.uk, T: 020 7616 7955
Notes to Editor
Blind Veterans UK
Blind Veterans UK is a national charity that believes that no-one who has served our country should have to battle blindness alone. It provides blind and vision-impaired ex-Service men and women with lifelong support including welfare support, rehabilitation, training, residential and respite care.
Find out more at: www.blindveterans.org.uk, and follow us on Facebook at: facebook.com/blindveteransuk and on Twitter at: twitter.com/blindveterans.