The Taxi Charity was delighted to take four Blues and Royals Veterans to France for a ceremony to unveil the restored statue of Field Marshal Earl Haig by his Grandson, The Lord Astor of Hever.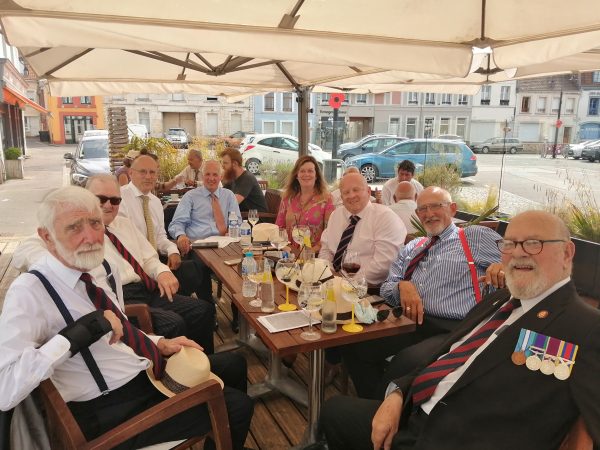 The Taxi Charity was thrilled to be invited to Montreuil-sur-Mer by Lord Astor of Hever for a ceremony in honour of his Grandfather Field Marshal Earl Haig. The original  statue of Field Marshal Earl Haig astride his horse was erected by the French in 1931 in the town of Montreuil-sur-Mer but was later damaged by the Germans. Following an appeal from the Haig Statue Restoration Fund, the statue is now back to its former glory.
Frances Wyhowska, Vice President, Taxi Charity for Military Veterans, said,
"The Taxi Charity was asked by the Adjutant of the Household Division to support this prestigious event hosted by Lord Astor of Hever by bringing four Blues and Royals veterans to Montreuil-sur-Mer and we were very happy to help. Two of our charity volunteers Brian Heffernan and Simon Hawes who are both London cab drivers supported the veterans by picking them up, driving them to France and then escorting them to several events over the weekend."
During the packed weekend, there was a Gala Dinner on Friday 17 June and the following day a ceremony  in which  Lord Astor unveiled the restored statue's new plaque in the company of senior representatives from many regiments. On the Saturday evening there was a reception, and on Sunday 19 June guests attended a memorial at the Commonwealth Graves Cemetery in Etaples for one of the saddest days in the history of the Household Cavalry when forty-four Lifeguards  were killed in one day.
Brian Heffernan, London cab driver and Taxi Charity volunteer said,
"The highlight of anything I do with the Taxi Charity is always meeting the veterans. One of the veterans we drove, Peter Storer, is  a superb battlefield guide, so we stopped off at the site of Waterloo and he shared his extensive knowledge about the battle. During the weekend  Simon and I discovered that one of the other veterans who was travelling with us Frankie French,  was a huge Henry V fan, and it has always been on his  bucket list to go to Agincourt, so we had no hesitation in  helping him tick this off his list."
To find out more about the support the Taxi Charity offers veterans or to donate visit www.taxicharity.org