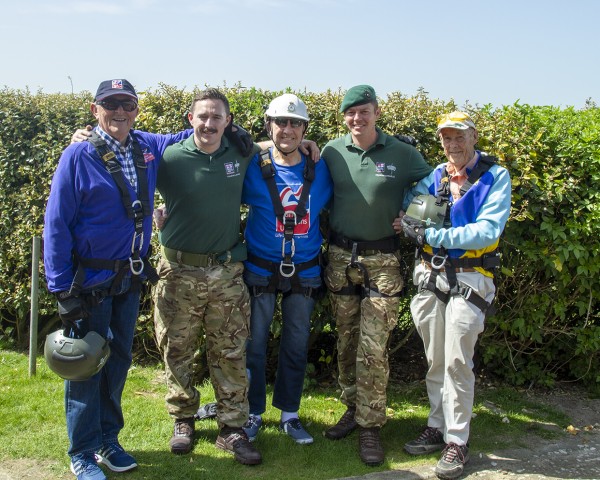 A blind veteran from Brighton took on a great challenge by riding a Royal Marines zip wire and descending 120 feet from the top of Blind Veterans UK's iconic building in Ovingdean earlier in April (21-22/04).
Tony Harbour, who turns 83 in June, was joined by 130 other daredevils, including blind veterans supported by the charity, in taking part in the challenge which has seen nearly £12,000 raised and pledged so far.
Tony says: "This is my third year taking part in the zip wire challenge and the atmosphere was absolutely brilliant yet again. The fear soon turned into exhilaration as the adrenalin kicked in and I sped 30mph towards the ground."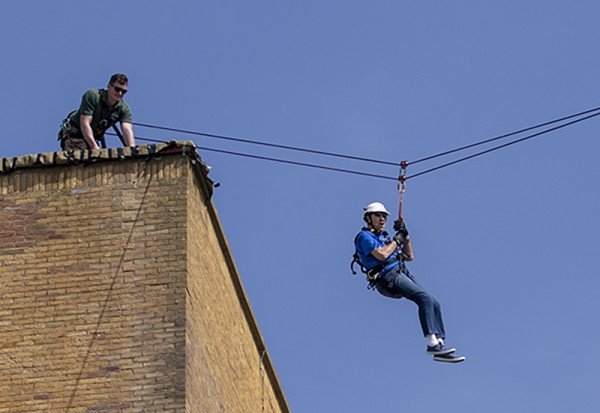 He continues: "As a former RAF Policeman, I wore a special white helmet, which meant the Royal Marines let me travel the wire a little bit further. When I eventually reached the bottom, I was greeted by two more marines and we all had a good laugh as I struggled to stand up."
Tony was part of the RAF Police from 1953 until 1961 and was stationed in Gibraltar and the UK.
After he left the RAF he finished his apprenticeship and degree in electrical engineering and moved to Brighton, where he started up his own business.
Part of his work involved working on Blind Veterans UK properties, which are adapted for veterans with sight loss so they can live independently.
After volunteering for the charity for almost 20 years, Tony was diagnosed as suffering from glaucoma himself.
He had several unsuccessful operations to try and help with his sight but was registered blind in 2009.
Tony says: "When I lost my sight I found myself in a black hole that I didn't know how to get out of. I wasn't myself and I did not want to know the world.
"I'm so glad that I knew about Blind Veterans UK and I can't tell you how much they have helped me. They've given me my independence back."
Tony has taken part in many fundraising events for the charity, including an abseil down the Grand Hotel in Brighton, and has raised thousands of pounds with other members of the RAF Police Association for the charity.
Of his most recent effort, Tony says: "The zip wire was all over far too quickly. It just goes to show that blindness doesn't have to get in the way of taking on challenges and stepping outside of your comfort zone."
Blind Veterans UK was founded in 1915 and the charity's initial purpose was to help and support soldiers blinded in WWI. But the organisation has gone on to support more than 35,000 blind veterans and their families, spanning WWII to recent conflicts including Iraq and Afghanistan.
For more than a century, the charity has been providing vital free training, rehabilitation, equipment and emotional support to blind and vision-impaired veterans no matter when they served or how they lost their sight. Visit blindveterans.org.uk/support to learn more about the charity and how you can support its vital work today.
For all media enquiries please contact: Ruth Moore, PR and Communications Executive, Blind Veterans UK, 12 – 14 Harcourt Street, London W1H 4HD, E: ruth.moore@blindveterans.org.uk, T: 020 7616 7955
Notes to Editor
Blind Veterans UK
Blind Veterans UK is a national charity that believes that no-one who has served our country should have to battle blindness alone. Founded in 1915, the charity provides blind and vision impaired ex-Service men and women with lifelong support including welfare support, rehabilitation, training, residential and respite care.
Find out more at: blindveterans.org.uk, follow us on Facebook at: facebook.com/blindveteransuk and on Twitter at: twitter.com/blindveterans.