A grandmother from Telscombe Cliffs in Brighton sewed and sold hundreds of masks during lockdown, donating half of the income to local military charity, Blind Veterans UK.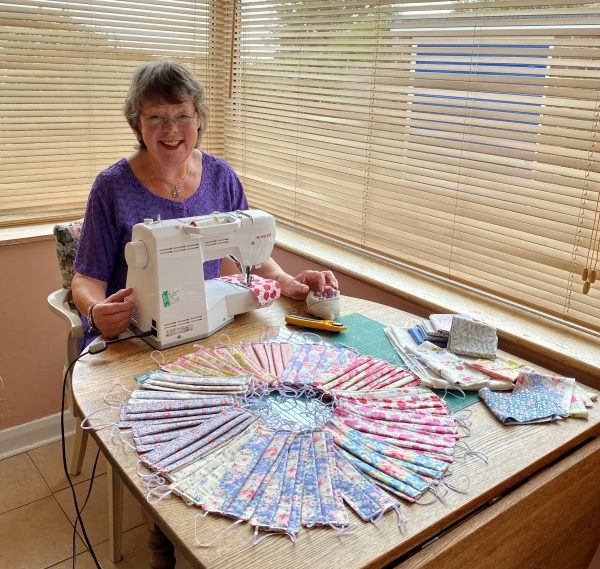 71-year-old Jan Wilks got involved in the project when a friend found out that Blind Veterans UK were short of PPE at their training and rehabilitation centre in Ovingdean. She says:
"We knew the care staff and blind veterans needed masks so three of us got together and made 30.

"It made me feel great and I really enjoyed it so I decided to start making more using the material I had in my drawers. I gave them out to friends and I think word got around because Handy Hardware in Rottingdean asked for a couple for when they were doing deliveries.

"Well apparently people kept on asking where they got their lovely masks from, so they came to me and said they would be happy to sell them in the shop for charity. I made a batch and low and behold they quickly sold out. A few batches later and they had sold over 200! I still can't quite believe it. We made a total of £1,000 which will be split between two local charities, Blind Veterans UK and the Brighton Macmillan Coastal Garden Trail.

"We used to live in Ovingdean so Blind Veterans UK have been part of our lives for over 40 years. I used to have a sewing shop in Rottingdean and it was popular with blind veterans' wives when they came on holidays at the rehabilitation centre.

"I'm so pleased I decided to get involved with this project. It was so lovely to do something beneficial for a good cause while I was stuck inside during lockdown."
Blind Veterans UK has adapted its service to support its 5,000 beneficiaries, 90% of whom are over 70 and at an increased risk from Covid-19. The National Support Service will help blind veterans through this period of social isolation.
Nicky Shaw, Blind Veterans UK Director of Operations said:
"Living in isolation, blind veterans need our help right now with daily tasks, such as the shopping, and constant emotional support through this difficult time. So we are temporarily changing our service and mobilising our staff to provide practical, essential support to help the most vulnerable.

"There is so much that we can and must do to support blind veterans to help them maintain physical and emotional wellbeing, and to feel safe, reassured and cared for during this crisis."