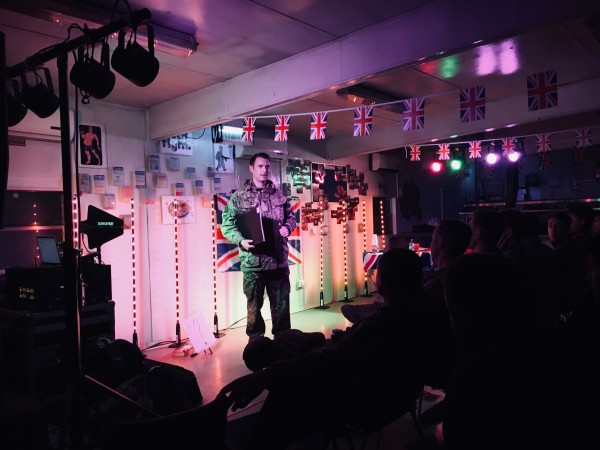 Army Lance Corporal and Magician Takes His Magic Tour to Kabul, Giving A Morale Boost to Those Serving in Afghanistan
Forces Live Events (CSE), experts in the organisation of bespoke live entertainment events for the Armed Forces, have just returned from a magical trip to Afghanistan with Lance Corporal Richard Jones – the first and only magician to ever win Britain's Got Talent.
Supported by fellow magician, Daniel Boyles, Richard toured his magic show around various bases in Kabul. The audience mainly consisted of UK troops, but the show was also enjoyed by coalition forces from Turkey, Australia, New Zealand and the USA, among others. Each location was packed to the rafters – with standing room only.
Richard Jones joined the British Army in 2010 and studied at the Royal Military School of Music in Twickenham.  He later spent three years with the Band of the Parachute Regiment, and in 2014 was posted as a mounted duty man to the Band of the Household Cavalry. Not only has he performed for royalty and wowed millions of TV viewers, but he has also been awarded status of 'Member of The Inner Magic Circle' with Gold Star, the most prestigious honour among magicians.
Lance Corporal Richard Jones said: "Being a military ambassador, I have great respect for what CSE does and I want to give back as much as possible. Providing that essential morale boost to my fellow service men and women currently deployed in Kabul was both an honour and a privilege."
Angie Avlianos, Entertainment Manager for Forces Live Events (CSE), said: "This was a physically demanding tour during an unstable time for Afghanistan. There were three attacks during the week of our visit which highlights the difficult and challenging job our coalition forces face every day. To be able to bring them entertainment like this is a huge honour and it was so lovely to see them laughing and enjoying the brief diversion. One venue even baked us a cake! You don't expect a cake in a place like Kabul."
Forces Live Events (CSE) is part of the Forces Network, operated by the Services Sound & Vision Corporation (SSVC), a military charity dedicated to informing, entertaining, connecting and championing the UK's military community abroad and at home. The Forces Network also includes Forces Radio BFBS, Forces TV and BFBS TV, which supplies the best of British television to the Armed Forces and their families overseas.
-ends –
About Forces Live Events (CSE)
Founded in 1946, Forces Live Events (CSE), took over when the Entertainment National Service Association (ENSA) was disbanded. It organises bespoke events, from shows with comedians, musicians and dancers, to parties and family fun days for civilian and military communities. As a not-for-profit organisation, CSE also delivers beneficiary projects to British forces and their families. For more information, email cse@ssvc.com, call 0203 750 4148 or go to https://www.forces.net/live-events
Follow Forces Live Events (CSE), at: