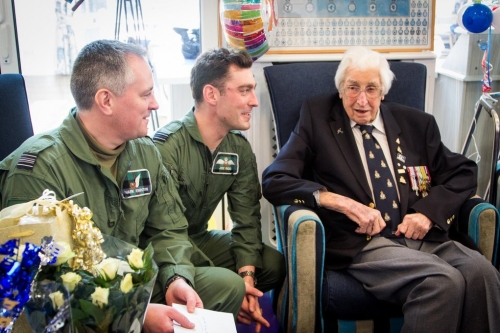 On Tuesday 17 January, Bomber Command veteran, Bill Lucas, marked his 100th Birthday at the RAF Benevolent Fund's Princess Marina House.
More than 65 guests joined Bill and his wife Sheena to mark the momentous occasion, with a special appearance from XV Squadron, one of Bill's former Squadrons. Pilot Joe Rigg and Navigator Mark Swinton travelled down from RAF Lossiemouth and presented the centenarian with a commemorative print. During his RAF career, Bill completed more than 80 missions including the 1,000 bomber raid on Cologne in 1942 and was subsequently awarded the Distinguished Flying Cross.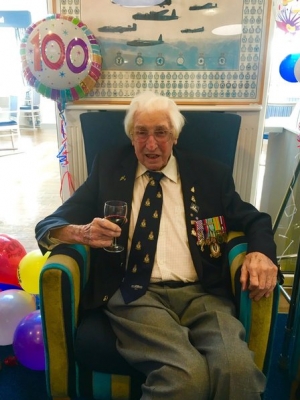 Bill also holds the title of 'Britain's oldest Olympian' due to his participation in the 1948 London Olympic Games as a track runner.
Bill said: "We've had a marvelous party here this afternoon. I thank everybody who has sent me best wishes. And also, I'd like to thank all the people who've sent me presents. I can't write to them all and thank them because I'm too old, but I hope this message gets to them. God save The Queen."
Air Vice-Marshal David Murray, Chief Executive of the RAF Benevolent Fund said: "The Royal Air Force Benevolent Fund wishes Bill a very happy 100th birthday and congratulates him on this wonderful milestone. We're delighted that he's celebrating amongst fellow Bomber Command veterans at our respite centre, Princess Marina House, and are honoured to be a part of this truly special occasion."