As part of the New Decade, New Approach (NDNA) Agreement, the UK Government committed to several veterans-related initiatives. One of these initiatives was a study into the expansion of the UDR & R IRISH (HS) Aftercare Service (ACS), to cover all UK Armed Forces veterans within Northern Ireland.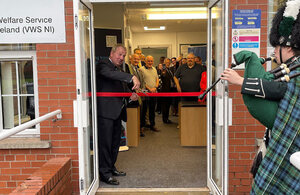 The Veterans Welfare Service Northern Ireland (VWS NI), part of MOD's Veterans Welfare Service (VWS) provides support to veterans, their families, service leavers, and bereaved families of service personnel in Northern Ireland. This service expansion sees the continued delivery of trusted services formerly provided by the Aftercare Service, combined with wider Veterans Welfare Service support, and is available to all UK Armed Forces Veterans within Northern Ireland.
The VWS NI expansion provides significant benefits to veterans, offering the same high grade, holistic welfare service to all veterans living in Northern Ireland, without reducing the current support to existing clients.
On 20 October 2023, The Veterans' Commissioner for Northern Ireland, Danny Kinahan, attended the event at the new VWS NI Headquarters, where he cut the ribbon to formally open the building and officially launch VWS NI.
Danny Kinahan, Veterans' Commissioner for Northern Ireland said:
"Since being appointed as NI Veterans Commissioner I have championed a single service for NI Veterans, to aid in providing welfare support, finance & benevolence assistance and pension advice, amongst other services. In April 2023, Veterans Welfare Service Northern Ireland (VWS NI) was stood up. Formerly the UDR & R IRISH (HS) Aftercare Service (ACS), its service expansion levels the playing field, enabling Armed Forces veterans and their dependants to avail of a high-quality service which delivers the best of MOD's VWS and ACS, without reducing support to existing clients. I am encouraged by the progress made, which is inclusive of all cap badges and services, and provides that single service. I hope that all veterans living in Northern Ireland will feel supported, understood and valued when reaching out to a Veterans Welfare Service, that can be trusted in their time of need."
Mr Kinahan toured the VWS NI offices and spoke to the teams who deliver support to the veteran community.
The VWS NI HQ and each of the four Welfare Teams were represented at the event (Coleraine, Portadown, Holywood, and Enniskillen). Veterans and clients of VWS NI also attended the event to share their experiences.
Rob Rowntree, Deputy Head Armed Forces & Veterans Services, Defence Business Services said:
"I'm delighted to be here today to celebrate the completion of an important piece of work to deliver a 'step change' in support for all veterans in Northern Ireland, irrespective of their Service or Cap badge. The expansion of the After Care Service into Defence Business Services means that we can offer all veterans the very best of Government veterans support by building on the capability and experience of the After Care Service with the expertise of the Veterans Welfare service to provide a 'one stop shop' for all. Moreover, the ability to access facilities throughout Northern Ireland demonstrates that we have created a much more flexible and agile service for our veterans."
There are additional services that will endure such as MOD funded medical provision for psychological therapy and physiotherapy for service-related ailments, non-public funded welfare support for widows, bereaved, and disabled ex-soldiers, including Respite and Remembrance activities; the latter funded by Regimental Benevolent Funds.
VWS NI would like to assure UDR and Royal Irish (Home Service) veterans that delivery via a local community-based welfare service for Northern Ireland will continue. Outreach team locations and numbers will endure, the support our veterans are offered will not be diminished and there will be no degradation in service.
How to contact VWS NI
Veterans and their families should follow the current referral process, using this contact number: 028 90 420 145 or email: dbsafvs-vws-ni@mod.gov.uk
Further information on Support for veterans and their families in Northern Ireland