Staff at the Manchester office of property services giant Cushman & Wakefield have chosen Broughton House Veteran Care Village as their local charity of the year for 2020.
Each year, the firm adopts a national charity and its offices choose a local cause to support.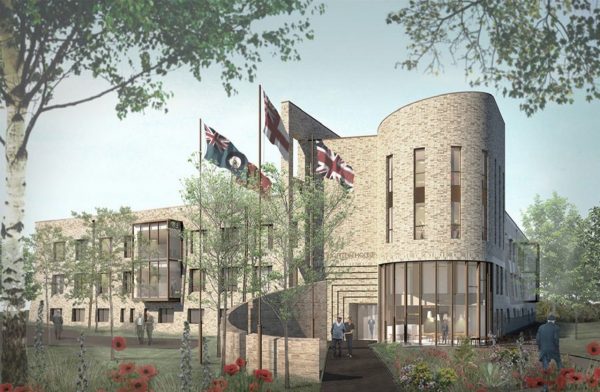 Broughton House, in Salford, is a home for ex-servicemen and women which is being transformed into the UK's first Veteran Care Village in a £15m redevelopment.
It was nominated by Sharron Marshall, a PA in Cushman & Wakefield's Manchester office.
Her late father Keith worked at Broughton House as a supervisor from 1996 to 2003 and had previously served in the army for a total of 33 years.
Broughton House is also a client of Cushman & Wakefield, whose healthcare team is advising on the expansion project.
Once completed, the two-acre site will feature a 64-bedroom care home, up to 30 independent living apartments, a military support hub, a memorial park and landscaped gardens with a bowling green and bandstand.
Cushman & Wakefield has 100 staff in Manchester. Its offices are in No 1 Marsden Street, in the city centre.
Staff have so far raised hundreds of pounds for Broughton House and are planning further events once the coronavirus crisis is over.
They also plan to visit the residents and help them to move from the current building to the new site.
Caroline Baker, head of Cushman & Wakefield's Manchester office, said:
"We're delighted to be supporting Broughton House as our chosen local charity and are

looking forward to working together to plan a fundraising calendar and also support them as they develop their home."
Laura Carr, community and events fundraiser at Broughton House, said:
"Being chosen as Cushman & Wakefield's charity of the year means a lot to everyone at Broughton House, especially because of the connection through Sharron's late father.

"The funds that will be generated through this partnership are invaluable and will go towards building the UK's first Veteran Care Village, a much-needed facility for veterans of all ages."
For more information on this story, contact Rhys Edwards, fundraising and marketing manager at Broughton House, via rhys.edwards@broughtonhouse.com or 0161 740 2737 or 07368 266823. For more information on Broughton House, visit www.broughtonhouse.com