Residents at Broughton House Veteran Care Village in Salford, including World War Two veterans, celebrated the 75th anniversary of VE Day with a special afternoon tea and entertainment.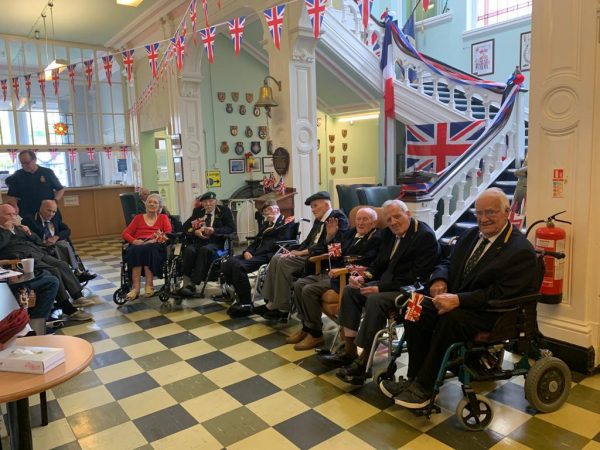 ABF The Soldiers' Charity, the British Army's national charity which provides support to soldiers, veterans and their families, provided refreshments and party paraphernalia including bunting and flags for the occasion.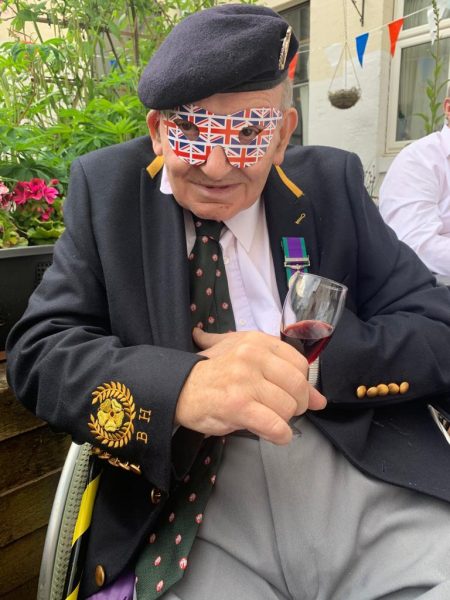 Singer Sarah Dennis, known as The Veterans' Sweetheart, performed a concert for the Broughton House veterans over Facebook Live, and Michael Quinn of the City of Manchester Pipe Band played the bagpipes from outside the home.
The veterans observed the national two minutes' silence and sang along to We'll Meet Again during the celebrations.
Among the residents taking part were:
· Former Royal Marine Commando George Simms, aged 96;
· Joan Jones, 94, who was in the Women's Auxiliary Air Force and worked as a teleprinter sending messages to secret agents in France;
· Ken Ashworth, 96, an anti-aircraft gunner in the Royal Artillery and the Maritime Royal Artillery;
· Ernie Ball, 94, who served in the East Lancashire Regiment;
· Steven Harvey, 97, who served in the First Army.
George said:
"It was a brilliant day. We were spoilt from the moment we woke up. It was a special day and we certainly made the most of it."
Rhys Edwards, fundraising and marketing manager at Broughton House, said:
"Our staff and residents had a great day celebrating. The sun was shining and our residents couldn't be happier.

"I would like to thank ABF The Soldiers' Charity for supplying all the party material. Their support in making the day special was greatly appreciated by all at Broughton House."
Brigadier (Ret'd) Robin Bacon, chief of staff at ABF The Soldiers' Charity, said:
"The coronavirus might have made it a little harder to commemorate VE Day this year, but ABF The Soldiers' Charity has been delighted to partner with Broughton House to ensure that our elderly veterans could enjoy a celebration.

"We wanted to do our bit to boost morale at this trying time, and to help bring a smile to as many veterans' faces as possible on VE Day."
For more information on this story, contact Rhys Edwards, fundraising and marketing manager at Broughton House, via rhys.edwards@broughtonhouse.com or 07368 266823.
For more information on Broughton House, visit www.broughtonhouse.com