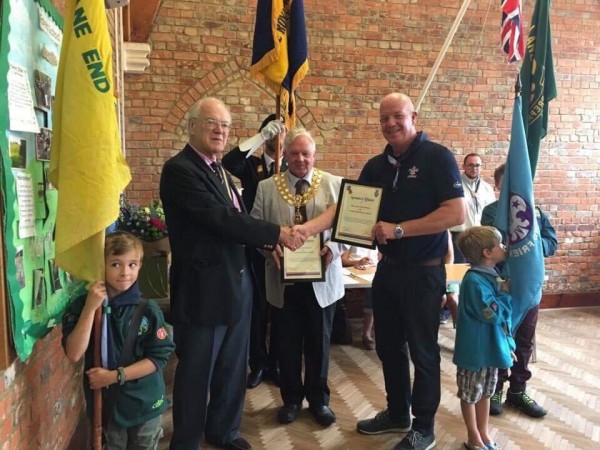 Buckinghamshire-based Lane End Scout Group have joined together to raise money for The Royal British Legion in a partnership that is recognised as the first affiliation between the two organisations in the region.
The Lane End Scout Group, based in the village within the Wycombe district, have chosen to partner with the local branch to raise funds for The Royal British Legion due to the group's close links with the Armed Forces community. All team members have either served, have family members who have served and, in one case, are currently a serving member of the armed forces. The scout group also has the honour of being the first in Buckinghamshire to officially affiliate with their local branch of the Legion.
Group Scout Leader, Ian Harris, who is also the Welfare Officer for the local Legion village branch, said: "The two organisations are very dear to my heart and we as leaders cannot think of a better way of continuing our joint endeavours than by fund raising for the excellent work The Royal British Legion carry out. It's a great way to involve members of the local community young and old and raise not only funds for the charity, but also raise awareness of the vital services the Legion provide.
"As part of our fundraising, we are attending a Castaway Survival challenge week organised by the Legion off the South Coast of England. We will be sleeping in shelters we build ourselves, foraging for food, and learning a host of new skills on the way – it's not going to be easy, but it's going to be a whole lot of fun and in aid of a great cause."
Legion Community Fundraiser for Buckinghamshire, Steve Kingsford, added: "We are thrilled that such an iconic organisation such as the Scouts is working with the local branch of the Legion to raise funds for our services. Every penny raised helps towards support including benefits and money advice, blast injury research and break centres for Armed Forces families to name a few."
The scout group have also set up a fundraising page where the public can donate towards their efforts on their Castaway challenge, which will help towards their goal of raising over £2,000. Visit https://www.justgiving.com/companyteams/LaneEndScouts
For more information about the Legion's services and support visit www.britishlegion.org.uk or call the contact centre on 0808 802 8080.
ENDS
The Royal British Legion's work is encapsulated in its motto: Live On – to the memory of the fallen and the future of the living. The Legion is the nation's biggest Armed Forces charity providing care and support to all members of the British Armed Forces past and present and their families. It is the national custodian of Remembrance and safeguards the Military Covenant between the nation and its Armed Forces. It is well known for the annual Poppy Appeal, and its emblem the red poppy. www.britishlegion.org.uk