Date: Thurs 2 November 2023
Time: 1000 – 1530
Venue: St Thomas Centre, Ardwick Green North, Manchester, M12 6FZ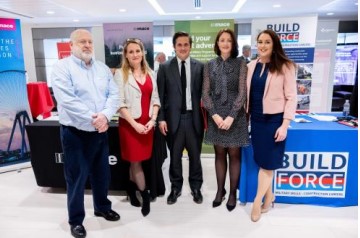 BuildForce is delighted to be hosting our next Insight Day, with sponsor Wates. It is an  opportunity to meet with many of our industry employers, to learn about the vast  careers available, and to hear from Wates and what they have to offer.
On the day, engage directly with consultants, contractors, housebuilders, and SMEs, to hear about the sectors they work in and the careers they offer, including: PMO, Project Management, Site Management, Logistics, Engineering, Design, Quantity Surveyors,  Health & Safety, Quality, Environmental/Sustainability, Facilities Management, Trade  roles, Plant Operators, HR, IT, Executive roles, to name but a few.
You will have an opportunity to spend 1-2-1 time with industry in an informal, friendly  atmosphere and to discuss your transition, CV, career advice and employment  opportunities.
Agenda for the day:
1000 – 1100: Registration & coffee
1100 – 1200: Guest speakers
1230 – 1530: Employer forum (working lunch)
Register at: info@buildforce.org.uk
Who we are:
BuildForce supports our service leavers, veterans, reservists and spouses as they  transition into long-term careers in construction and the wider built environment. Our industry programme, training programme and mental health programme offer a rich wraparound service to ensure you transition successfully into a long-term career in  construction/built environment.
Our key sponsor Wates, established in 1897, is the UK's leading family owned development, building and property maintenance company. Now in our fourth  generation of family ownership, we're committed to the long-term sustainability of the built environment and to making our industry more inclusive and representative of the communities we work in. We are one of The Times Top 50 Employers for Women and an Investors in People Gold accredited company. We are driven by our shared purpose of working together to inspire better ways of creating the places, communities, and businesses of tomorrow.
Testimonials:
"The BuildForce Armed Forces Insight Day was simply excellent. It opened my eyes to the wealth of opportunities available. Now, becoming a veteran is the opposite of daunting; it's exciting! And having the dedicated support of BuildForce is priceless. 10 out of 10!"

"I thought the event was very well organised, delivered and practically informative. What I found most useful is how engaging and focused the day was, from the insightful panel session setting a positive tone by some very senior/influential people, to the representatives on the stands. It is the most helpful single thing I've done so far to link current skills to tangible future opportunities: and I only have 3 weeks to go before I hand in my ID card!"