Building Heroes, a Queen's Award-winning UK charity dedicated to empowering the Armed Forces community and military family members in transitioning to successful construction careers, is proud to announce the revival of its acclaimed training program in Wales in aid of its 10th anniversary in 2024.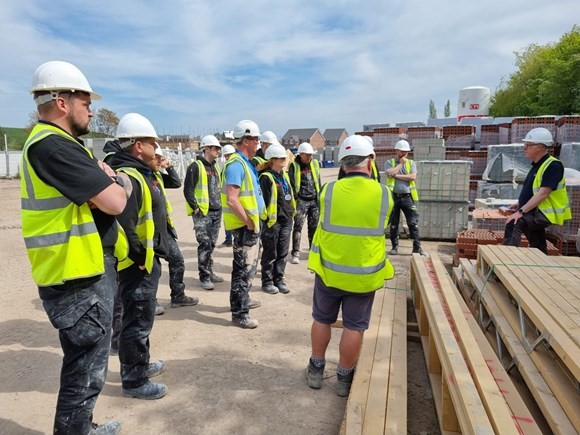 The relaunch, strategically timed with the dawn of a new decade for Building Heroes, showcases the organisation's dynamic growth, ongoing momentum in expanding its support network, and a heightened capacity to assist a greater number of service leavers.
Partnering with Cardiff and Vale College, the programme is set for a November launch, signifying a pivotal commitment to fostering career pathways for the Armed Forces community within the region. This collaboration underscores a shared vision of equipping veterans with practical skills and industry knowledge, enabling access to pathways into civilian roles in the construction sector.
Karen Jefford, Chief Executive Officer of Building Heroes Education Foundation, shared her enthusiasm, stating,
"We are delighted to reintroduce our training program to Wales in collaboration with Cardiff and Vale College. Our commitment to Wales is vitally important, enabling us to support Tri-service Welsh personnel but also those currently residing in England & wishing to create new careers and homes in Wales. This partnership revitalises our presence in Wales, reaffirming our dedication to bolstering the construction industry workforce while honouring our military's dedication. Our sincere thanks to everyone who has supported the charity, but in-particular Peter Kellam, Senior Private Secretary, and Stephen Doughty MP Welsh Government who were influential in our return."
Renowned for its emphasis on hands-on training, mentorship, and industry engagement, the Building Heroes programme offers veterans an opportunity to explore a variety of construction disciplines, unlocking doors to fulfilling careers. Through partnerships with local construction stakeholders and industry experts, the charity creates a comprehensive experience that aligns with the wide range of prospects within the construction field.
As the November launch approaches, the charity and the college are gearing up to welcome the first cohort of participants, providing the opportunity to support veterans and service leavers as they embark on new career journeys. Building Heroes eagerly looks forward to the impact of the Cardiff training programme on veterans' lives and the local construction industry. With a decade of accomplishments behind it and a future decade brimming with potential, Building Heroes' expansion reaffirms its unwavering commitment to veterans and the construction sector's growth.
To find out more about the Building Heroes programmes and to register your interest, visit https://bit.ly/3WQNLYF.