Are you a Service Veteran in receipt of your State Pension?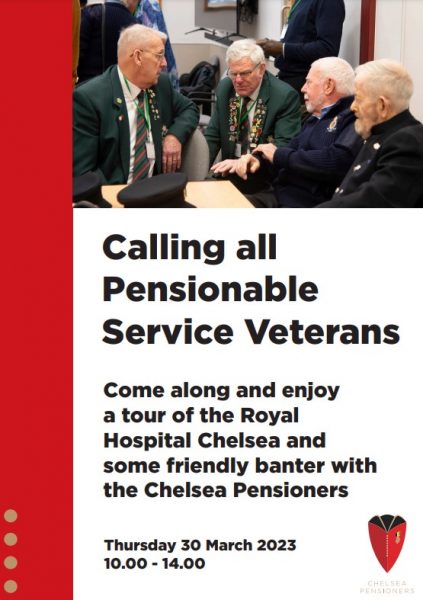 If you are and would enjoy a tour of the Royal Hospital Chelsea and some friendly banter with Chelsea Pensioners we would love to see you at The Royal Hospital Chelsea on Thursday 30 March 2023.
Veterans of the RN/RM, the British Army, RAF and Merchant Navy are all welcome to attend.
PROGRAMME
• 09.45 – 10.00 Arrive
• 10.00 – 10.30 Introduction to RHC Veterans' Outreach with tea/coffee
• 10.30 – 12.00 Tour of the Royal Hospital Chelsea
• 12.15 – 14.00 Sandwich Lunch and Banter
Royal Hospital Chelsea Delivery Partners
The following Service Charities and our Delivery Partners will also be represented at this event and available to offer advice and support:
SSAFA,
BLESMA,
Combat Stress,
Op Courage,
DWP,
Samaritans,
Fighting With Pride and others.
Please come along to: Chelsea Gate, Royal Hospital Chelsea, Royal Hospital Road SW3 4SR
Please bring: Photo ID (passport/driving licence or similar) and any documentation confirming your status as a veteran. If you need support, you are welcome to bring along a carer, friend or family member but this is limited to a plus one.
We look forward to meeting you!